💡The Big Idea
The biggest economic disruption since the Great Depression is being met by the biggest surge of economic policy ever, outside of a world war. Here's the TLDR on our latest member-exclusive field guide on government bailouts.
---
🤔Here's Why
1️⃣ Governments around the world are rushing to stabilize their economies by any means necessary.
2️⃣ Protecting workers and small businesses is a top priority, and Germany and Switzerland get top marks there.
3️⃣ Successful relief efforts involve deciding who not to bail out, and many experts think that should include big businesses.
4️⃣ All of this spending means much more government borrowing.
5️⃣ The politics of bailouts are perilous, and this crisis could make political dysfunction worse.
---
📝 The Details
Just about the entire planet is grappling with what may well be the biggest disruption in trade and commerce since the Great Depression, and policy makers in advanced economies have fought back with trillions of dollars of spending and lending. Among nations with a fiscal plan in place and GDP-per-capita of $10,000 or more, 45 out of 55 have fiscal spending plans of 1% of GDP or more including grants and loans, according to IMF data compiled by Quartz. The health crisis is just as serious for developing nations, but these governments lack the resources to fully shore up their industries and workers.
Kurzarbeit, which means "short-time work" in German, is the best-known system for keeping workers on the payroll when times get tough. In Germany's scheme, companies are paid by the government to keep workers on the payroll at reduced hours during a recession instead of letting them go. Other nations replicated it before and during the financial crisis a decade ago and even more are adopting some of these principles now.
In terms of supporting small businesses, Switzerland's "bridging credits" appear to get two important things right: They're simple to apply for (it only requires a one-page form), and lending decisions are lightning quick—Credit Suisse holds the record, having dispersed a loan in 18 minutes, according to an email from the Swiss Federal Department of Finance.
The airline industry is just one of many industries dominated by large companies that is seeking relief from governments. But this strikes many as being unfair, since big companies have access to other sources of capital. A group of more than 200 leading academics published a letter earlier this year as the US Congress was constructing its coronavirus bailout package arguing that big companies shouldn't be propped up at all. The idea that the airline or hotel industries would disappear without government support is inaccurate, says Jonathan Berk, finance professor at Stanford University. Passenger jets, hotels, and valuable brands would still exist after a bankruptcy reorganization, and those assets will be put to work again if there's consumer demand for them.
Protecting an economy from a pandemic isn't cheap. Officials, mainly from rich countries, are spending and lending more than $5 trillion to keep their nations from tumbling into an economic black hole. Rich nations were saddled with quite a bit of debt even before the Covid-19 crisis. The IMF forecasts their ratio of net debt to gross domestic product to increase from 77% this year to 94% in 2020. Still, most economists are sanguine about the explosion in debt from developed countries.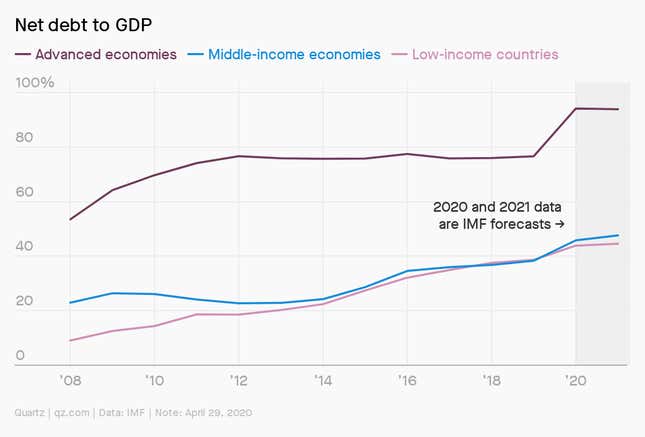 The US, like much of the rest of the world, is rescuing its economy again—this time not from a collapse driven by speculation, deregulation, over-investment and a collapsing bubble, but from a pandemic that has forced entire sectors into mothballs. The fiscal cost is already higher than we saw in 2008 and 2009 and the reverberations from that crisis set the tone for the entire Obama administration: A two-year push for rescue and reform became subsumed by an eight-year battle over government spending that effectively shut down policymaking. Pressing issues like climate change, immigration reform, and trade were pushed to the back-burner, never to return. But the rise of the Tea Party during the Obama years was much more complicated than just a reaction against bailouts.