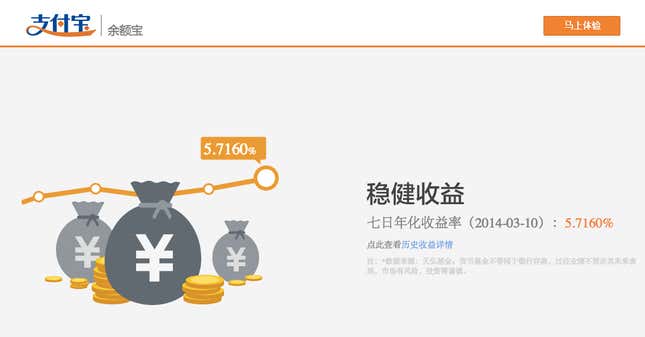 Chinese e-commerce giant, Alibaba's, online fund now has more investors than the country's equity markets. Yu'e Bao, which literally means "leftover treasure," had 81 million investors at the end of February, compared to 77 million equity trading accounts that were active as of the beginning of March, the Financial Times points out (paywall).
The number of investors that have piled into Alibaba's electronic wallet fund is a function of poor confidence in China's stock markets as well as surging interest in online money market funds, one of the few channels for investment that Chinese residents have. Chinese internet giants Tencent and Baidu have also launched similar online funds, which offer annual interest rates of around 6%, and some up to 10%—way more than the 3.35% Chinese banks offer for saving accounts. According to the FT, Alibaba's fund had accumulated 500 billion yuan ($81 billion) in deposits by the second week of March, which makes it the fourth-biggest money-market fund in the world.
According to some, the surge in popularity, which is forcing banks to work harder to attract customers away from the funds, could encourage faster interest-rate liberalization (paywall). China International Capital Corp. recently predicted that online money market funds could displace some 8% of all bank deposits in the country.

But regulators aren't likely to leave these funds alone. As Quartz has reported, Yu'e Bao and its imitations make up another form of credit that's not kept on bank balance sheets. Last week, the governor of the People's Bank of China, Zhou Xiaochuan, said that the central bank doesn't want to "crack down" on the funds but that regulations needed to be more precise (link in Chinese).