Times are good for American dairy farmers. They are selling milk at the highest prices on record, up 17% in January on the previous year.
That's surprising, because US consumers aren't demanding more milk (paywall); retail prices have increased only minimally since January 2013. Supply doesn't seem to be crunched either, with January milk production 1.1% higher than the previous year.
Instead, the sky-high prices for milk producers probably have something to do with cheese, which heavily influences the price of milk. Sure enough, cheese is off the charts—prices were up 31% in January on the previous year, according to US Department of Agriculture data, compared with a 17% rise in milk prices. And that big increase isn't because of a cheese squeeze among producers, either; American cheesemongers broke historical output records in January, as Dairy Reporter blog points out.
Instead, what's driving the price increase is likely cheese exports. These hit 32,000 tons (29,000 tonnes) in January, setting a new record for the third consecutive month, says the US Dairy Export Council (pdf). That was a 46% jump on the previous year's exports: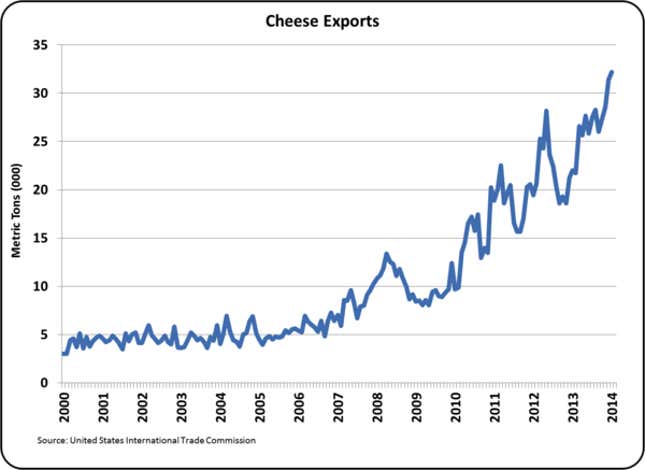 Exports now take up 7.4% of overall cheese production—not a lot, but a big bump from the 5.2% share they made up in 2012. So whom do US cheese-eaters have to thank for their heftier grocery bills?
The biggest fans of US cheese by far are Mexico, South Korea and Japan. Mexico accounts for around one-quarter of US cheese exports, in part because of its free-trade agreement with the US, but also because Mexicans just love cheese (the country is the world's biggest importer of Gouda). But despite having less than half Mexico's population, South Korea is steadily gaining ground:

South Korea blew past Japan and Canada in 2008 to become the number two market for US cheese. Then in 2012, the US and South Korea inked a free-trade agreement (pdf) that made US dairy products more competitive there.
Perhaps the biggest reason, though, is simply that South Koreans are eating more and more cheese. The wild popularity of string cheese in convenience stores has something to do with that, though the bigger factor is probably pizza, which is huge in South Korea: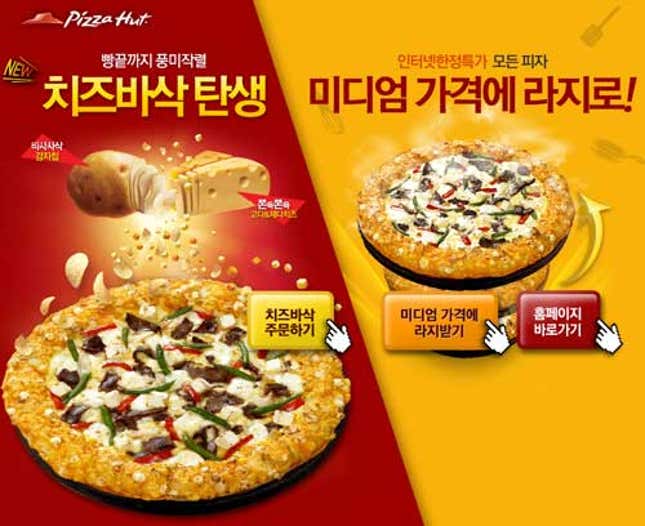 Back in 2007, the top four pizza chains (pdf, p.2) there started sourcing cheese from the US, which now has a "dominating presence in mozzarella" (pdf), South Korea's favorite cheese by far (pdf, p.5). Since then pizza has taken off even more; South Korea now has nearly 70 different pizza chains throughout the country. Mr Pizza, the country's most famous, operates 400 stores and is planning to open units in the US. But what Mr Pizza must be most famous for outside of South Korea is a marketing campaign built around a hoax documentary, which claimed that Marco Polo stole the concept of pizza from South Korea, the food's true inventor.