Each 2-ounce bottle of Original Red Tabasco red sauce contains exactly 720 drops.
While competitors sell their hots in much bigger bottles, Tabasco still sees the smaller one as its trademark. The privately held company says the little bottles account for about 40% of total annual sales, notably fueled by growth overseas.
"Almost all the business outside the US is 2 ounces," says Anthony Simmons, chief executive of McIlhenny Co., which has made Tabasco for 146 years. It is exported to 165 countries, and non-US sales projections for the next decade are estimated to grow from 40% of  total sales to a full half.
Tabasco's market share, 18.3%, makes it the top US hot sauce, with its closest competitor Reckitt Benckiser PLC, maker of Frank's RedHot, at 10.3%, according to an IBISWorld report on hot sauce. Both face heated competition from smaller players—mostly selling in bigger bottles.
Thanks to strong sales overseas, McIlhenny's revenues have increased at 8.1% annually, about twice as fast as the industry's overall growth, according to the IBIS report.
The 2-ounce bottle originated in 1927, and was based on the cork-top cologne-style bottle that founder Edmund McIlhenny is said to have used when he first made Tabasco Sauce around 1860.  (The sauce is made from ripe red peppers, salt and vinegar and aged for up to three years in oak barrels. McIlhenny chose the name Tabasco as his second choice; it may mean "land where the soil is hot and humid"—perfect conditions for growing the special hot peppers used. Of course, there's the tabasco pepper and the state in Mexico that also carry that name.) The first Tabasco sauce was sold in cologne bottles, since that's what McIlhenny could quickly source. (In 1869, the former banker sent his first batch, 658 bottles, to grocers for $1 apiece. It has stayed in diminutive containers ever since.)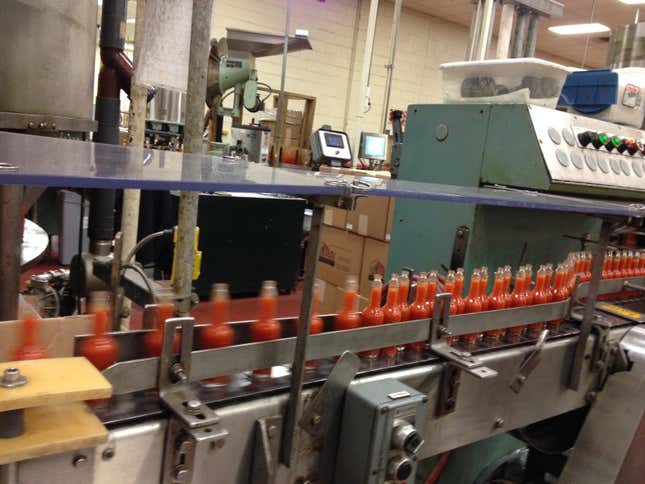 By contrast, the green-capped Huy Fong Siracha bottles tower at 17 ounces over the tinier Tabasco. Crystal Hot Sauce, also produced in Louisiana, comes in 3- and 12-ounce bottles. Most of Tabasco's competitors use  5- or 8- or 12-ounce bottles, Simmons says. They're all part of the hot hot sauce business, growing on the heels of hot wings and the US immigrant population. In the US, sales top $1 billion and grew by 9% last year. For its part, Tabasco is also innovating different flavors of hot sauce; it's up to seven now with habañero the spiciest.
Though the tiny Tabasco bottle is its mainstay, McIlhenny has an even smaller bottle—one that contains just one-eighth of an ounce of Tabasco and is sold as individual portions at Marriott hotels and served to politicians and presidents on Air Force One.
That tiny bottle has a tall history, too. It initially served as a sampler, given away at the end of a "burlesque opera" the McIlhennys commissioned in 1895 to travel around the country. They told the story of a man who discovered Tabasco—and loved it. "We gave away free samples at the end of the play to promote" the new sauce, Simmons said.
The  2 ounce bottles are specially made for McIlhenny, with a tiny opening. "The bottle is difficult to make—the opening has to be an exact size" to ensure the drops come out just as precisely, the CEO says.
Despite the 2-ounce bottle being the hottest seller, the 5-ounce size is also gaining in popularity, as people want more spiciness in more food and "trade up" to a larger size, Simmons says. Restaurant chains increasingly choose bigger bottles for customer use on tables, but Simmons says that's for a different reason: "It's harder to steal."