Google's venture capital arm, Google Capital, will plunk roughly $40 million into seven-year-old company, Credit Karma, in a bet that financial firms will pay to advertise to a carefully sifted set of prospective customers.
The move is  one of a handful of investments Google has committed to since launching its investment vehicle Google Capital last year. Google Capital has also invested  in the online polling company SurveyMonkey and the peer-to-peer loan company Lending Club. Google Capital partner David Lawee is expected to sit on the board of Credit Karma.
The credit-score-monitoring industry has suffered its share of reputational dings in recent years. According to the Consumer Financial Protection Bureau 11% of complaints it received since it began operating in July 2011 have been  about credit reporting entities :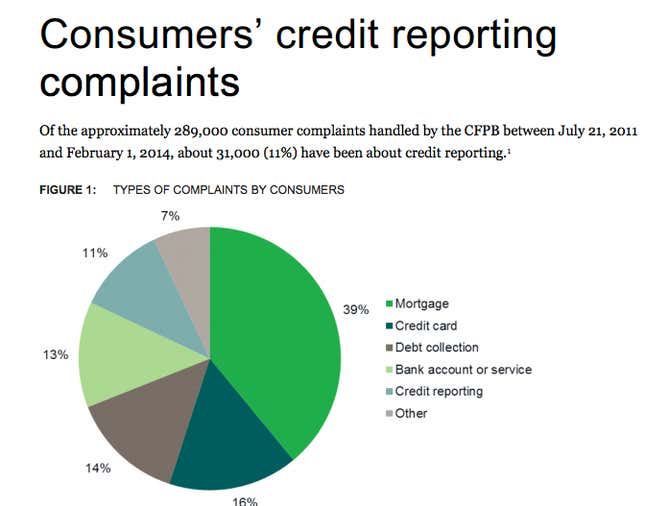 Credit Karma says it's different. For one thing, the company offers customers free looks at their credit scores once a week. The company's business model is built around charging companies like banks and credit card companies—including American Express, Discover, JP Morgan Chase and Barclays—to advertise on its site.Lin says that Credit Karma's access to consumer data means it can better tailor ads and ensure that pitches from financial companies reach the right audience.
The company collects annual revenues of more than $200 million, Credit Karma's chief executive Ken Lin told Quartz in a phone interview. But the outfit wavers between profitability and break-even status, in part because it spends a good chunk of its money (about a quarter of its revenues, or $50 million) on ads like this one:
Investors already seem sold. Including its latest round of funding, Credit Karma has raised nearly $120 million. Besides Google Capital, investors include Tiger Global Management, Ribbit Capital and Susquehanna Growth Equity, Credit Karma officials said.