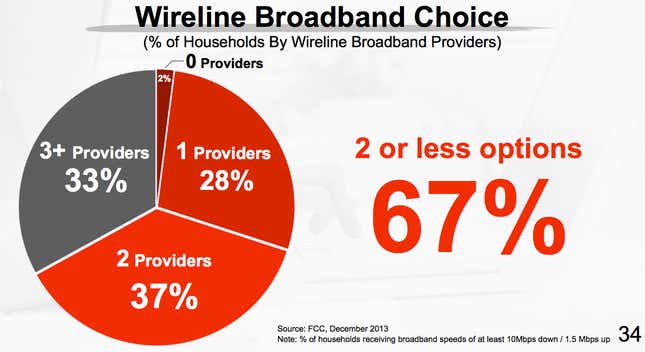 The above chart comes from a presentation(video) by Softbank CEO Masayoshi Son to the US Chamber of Commerce yesterday.
Softbank, which already controls America's third biggest wireless operator, Sprint, has begun a not-too-subtle campaign to convince America's regulators to allow it to consolidate the country's wireless industry further. There is no direct mention of T-Mobile US in the presentation, and a spokesman declined to comment, but rumors about Softbank's desire(paywall) to acquire the fourth placed operator have been swirling for months. Son, who is in a full media blitz, told Bloomberg's Charlie Rose, "We would like to make the deal happen."
The challenge for Softbank is that regulators, buoyed by T-Mobile's recent resurgence,  have signaled that they want to keep America a four-player wireless industry.
But Son is beginning to lay out what might prove a compelling argument for consolidation. He claims that a stronger third player in wireless could pose a genuine threat to the big two: Verizon and AT&T. It would be "a three-heavyweight fight," he told Charlie Rose, one that he said would allow him to wage "a more massive price war, a technology war."
With investment, Son argues that a combined Sprint-T-Mobile could even taken on America's wireline broadband industry, which is alarmingly uncompetitive. As the chart above shows, 30% of American households have no choice of who they get their wireline internet from (or no wireline internet at all). That leads to some of the highest prices on the planet for internet access, as the chart below (of pricing per megabit of data) shows.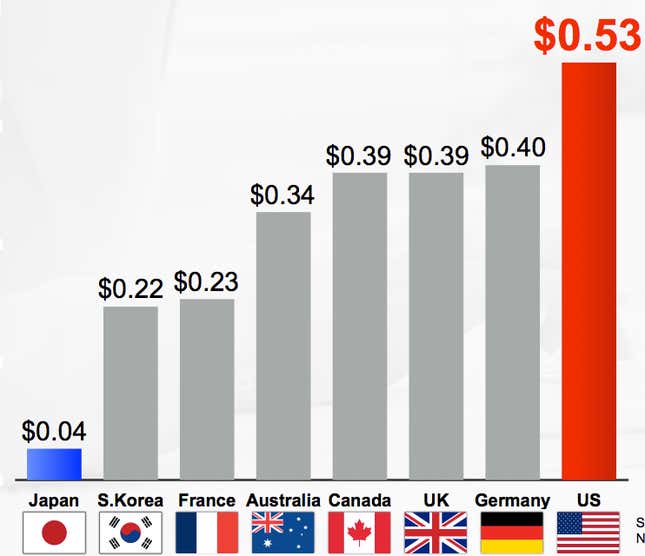 Wireless broadband is vastly inferior to internet from cable or fiber lines when it comes to upload and download speeds and consuming large amounts of data. But the advanced LTE services that Softbank has tested in Japan will make it a viable alternative for home internet in the future, Son says. Whether regulators are persuaded by this argument—at a time when wireline broadband could be consolidated further by the proposed Comcast-Time Warner Cable merger—is the multi-billion dollar question.