After you get your weather forecast from the Weather Channel, why keep watching?
That's the question the network has been struggling with as almost 10 million viewers tune in—and tune out—each morning. During the first eight weeks of 2014, the Weather Channel network enjoyed an enormous "reach" weekdays between 7 and 10am, with 9.5 million adults 25-54 (the advertising demographic most prized in cable news) tuning in for at least one minute. That number dwarfed the reach of the cable news networks during the same period: 8.3 million for CNN, 7.8 million for Fox News and 5.6 million for MSNBC.
But that morning audience isn't sticking around. The Weather Channel's average morning tune-in was 15.15 minutes, compared to 25.12 minutes for Fox News, 24.96 for MSNBC and 15.91 for CNN. "We have enormous reach in the morning, but it's sporadic," Weather Channel President David Clark told Quartz. "We felt there was an opportunity to put a big show there and change the relationship from a place where people come to check their weather to a place where people come to get a show and be part of their daily routine."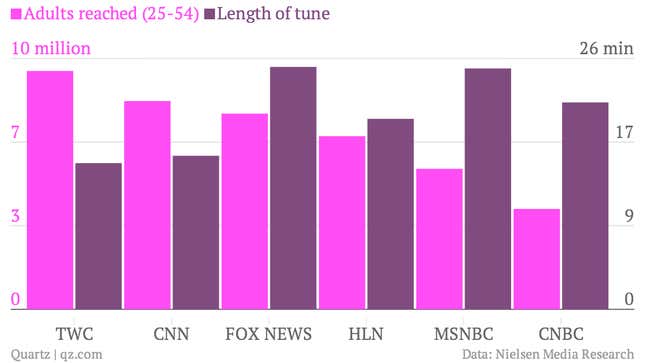 Enter Sam Champion, who anchors the network's new morning show, AMHQ with Sam Champion, which debuts Mar. 17 at 7 am EST. The former Good Morning America weather anchor will try to keep eyeballs glued to the network with a weather-based program that also cover news, business, health, and sports. In other words: you'll now be seeing more than just weather on the Weather Channel.
"I want to build a show that allows people to get what they want from us, which is weather, but not have to leave us for the other things that make them whole, that make them informed," Champion tells Quartz. "We're not going to become a sports channel. We're not going to become a business channel. But I don't want you to have to surf all morning long to get those headlines."
Champion will have a difficult task ahead of him, especially when viewers could opt to skip the channel entirely and get their info via the Weather Channel app. (The Weather Channel also remains missing from DirecTV as the companies continue their two-month-long contract dispute.)
"I'm served in a lot of ways with my phone and tablet. What I don't know and I'm not capable of getting off of either one of those is a comprehensive understanding of what the weather is like in my town and how it affects me. I can do that on TV," says Champion. "What I can do live is thoroughly explain to you this weather pattern, why it matters to you, why it's moving in and how it's different from the weather pattern that's moving last week."
As Champion tries to draw viewers to the network, he'll also be appearing on the Weather Channel's other platforms. "With Sam, and all of our talent, we need to do a better job in letting them use digital as a platform," says Clark, who says the key to balancing TV and digital is to "get each platform to play to its strengths. Television is great at storytelling, personality-driven explanations of what's happening en masse. Digital is great at very specific pinpointing information for your location. We're pushing on both of those and where there are opportunities to link them."
In addition to tackling non-weather topics on AMHQ, Champion will also be expanding the scope of the network's weather coverage. "To me, weather is a global topic," says Champion. "Global weather is hugely important. We should know and discuss what's going on in Australia, that it's a record, epic fire season. We should be invested in a storm that moves across Thailand. These are stories we should be telling. We can inform them [viewers] on other cultures and lands that are going through weather just like they are."