China is still the world's manufacturing powerhouse, but the nature of what the country's factories produce is changing. Rising labor costs and a growing consumer market at home are pushing more Chinese firms up the value chain—with hefty government support—and out from under the shadow of the multinationals firms they've worked with for decades.
Here are a few charts that explain why that's happening, from a new report (pdf) from the Asia-focused marketing consultancy Solidiance.
China's labor pool has changed dramatically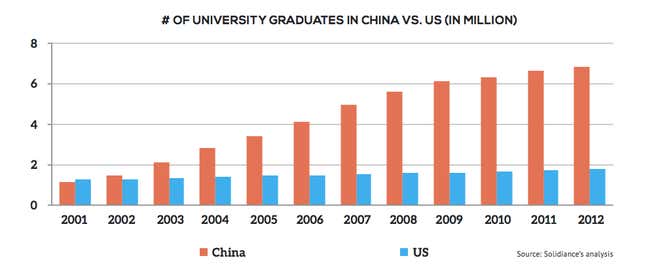 China is facing the simultaneous problems of a shortage of low-skilled labor and an oversupply of new graduates from its rapidly expanding higher education system. Youth unemployment is estimated to be about 8.1%, about twice the official overall unemployment rate. That's one reason why the government is campaigning so hard to shift the economy from one reliant on low-skilled manufacturing and heavy industries to one more dependent on services and high-end production, which can better absorb China's new talent pool.
Meanwhile, wages have risen. E-commerce giant Alibaba, which began in the late 1990s as a portal connecting Chinese manufacturers to overseas buyers, now pays new recruits around 200,000 yuan ($32,850)—about seven times the average annual wage for urban professionals.
The steady rise in wages is pushing manufacturers to move further inland, where labor is cheaper.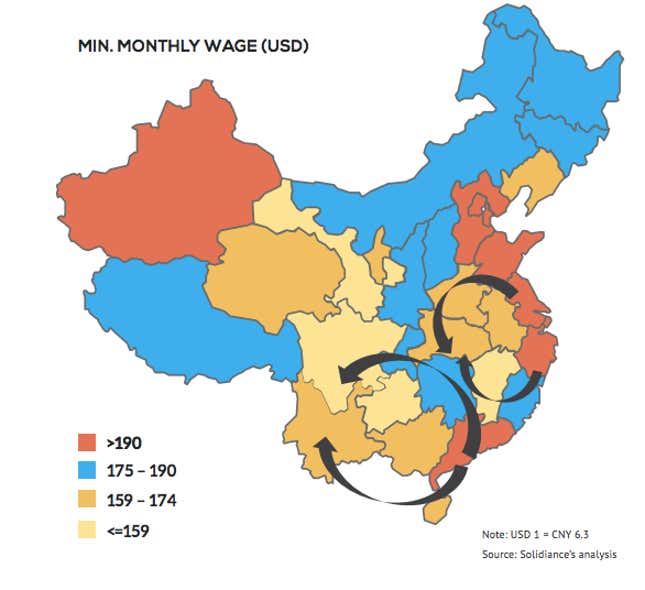 The government is also giving generous subsidies to firms working in any one of seven industries that include high-end equipment manufacturing, IT technology, clean energy cars, and biotechnology.
Chinese manufacturers are buying up foreign competitors
This chart shows outbound Chinese investment, in millions of US dollars.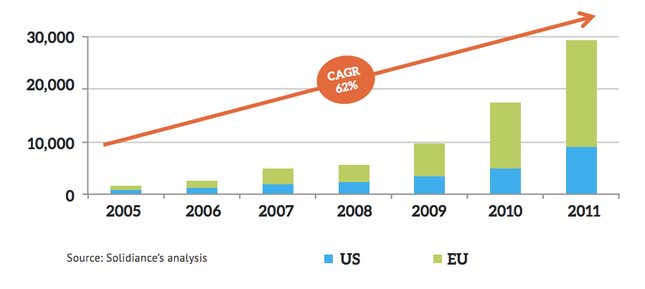 Foreign acquisitions have helped a private and state-backed Chinese companies firms move up the value chain.
The Hangzhou-based Wanxiang Group, which started in the late 1960s, making cheap car parks is now producing electric vehicles—helped by its purchase of A123 Systems, the bankrupt American electric car battery manufacturer. Beijing Genomics Institute in Shenzhen started as a provider of standardized and cheaper sequencing services.
After purchasing the American DNA sequencing provider Illuminia as well as Illuminia's main competitor, Complete Genomoics, BGI now has more sequencers than the entire US and is now the world's largest center for pig cloning.
China is developing its own intellectual property

Chinese investment in research and development has tripled since 1998 and in 2012 reached 1.98% of its GDP, slightly ahead of the European Union's combined R&D investment. As a result patent filings have also soared. Especially between 2000 and 2010, after the Chinese government began promoting its "indigenous innovation program," the number of patent filings jumped about 30%, faster than other major centers for R&D.