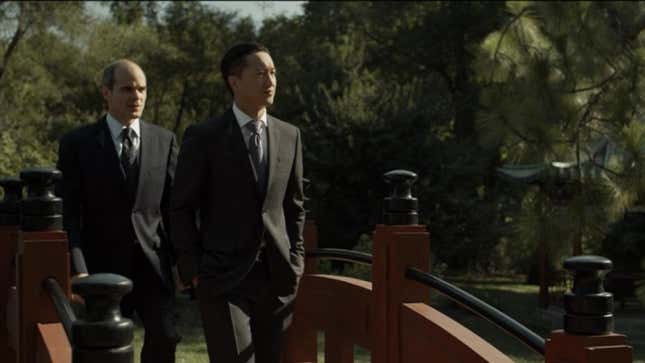 The second season of House of Cards has plenty to offer its fans in China's leadership—including, according to the country's ambassador to Washington, some prime lessons about the graft and fraud that pervades the US political system.
"I have seen both seasons of House of Cards, which I think embodies some of the characteristics and corruption that is present in American politics," ambassador Cui Tiankai told a panel at the Chinese People's Political Consultative Conference in Beijing this week, according to the South China Morning Post.
The Netflix series certainly paints the US political system in an ugly light, depicting a Washington, DC filled with cynical back-room deals and the occasional murder. But what Cui notably failed to mention is that the show doesn't do China any favors, either.
(Warning: spoilers ahead)
A major plot line in House of Cards, season two, concerns a princeling tycoon named Xander Feng who has interests in rare earths and US infrastructure projects (and, for some reason that is never really explained, kinky sex). Over the course of several episodes, Fang and other characters repeatedly observe that politics in China are deeply corrupt.
"Everyone in China who works on this level pays who they need to pay," Feng tells Doug Stamper, vice-president Frank Underwood's chief henchman.
House of Cards is available via online streaming sites in China, and it has escaped any "harmonization" by government censors, despite the fact that it depicts subjects—including Beijing's diplomatic duplicity over its foreign exchange policies, and Underwood's statement that "Mao is dead, and so is his China"—that would usually be forbidden. Tea Leaf Nation suggested that the reason the show is uncensored is that "occasional pot shots at China [are] allowed, so long as the U.S. political system looks every bit as rancid."
So did Cui really watch House of Cards all the way through? Is he being willfully obtuse about what the show has to say about Chinese politics and corruption in the service of diplomatic one-upmanship? Or is he—and this would be a byzantine twist worthy of House of Cards itself—subtly expressing his own displeasure at Chinese corruption in the only way a Chinese diplomat can, by drawing attention to it while pretending he hasn't seen it?
Or perhaps he has simply taken the pragmatic advice of Frank Underwood to heart: