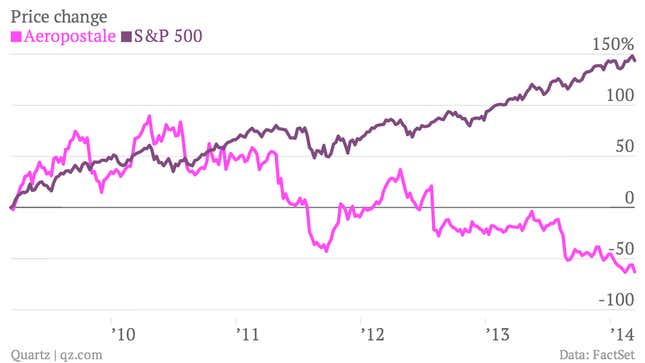 "The challenge of any teen retailer today is to adapt to the new generation of the teen consumer, Gen Z, who is more connected, curious and current than any prior teen generation," declared Aéropostale CEO Tim Johnson last night.
Few retailers have been as badly exposed by shifts in teen consumption habits than Aéropostale.  The stock is down 15% today after it reported another difficult set of quarterly results, and has been among the poorest performers in the teen retail sector over the past 5 years.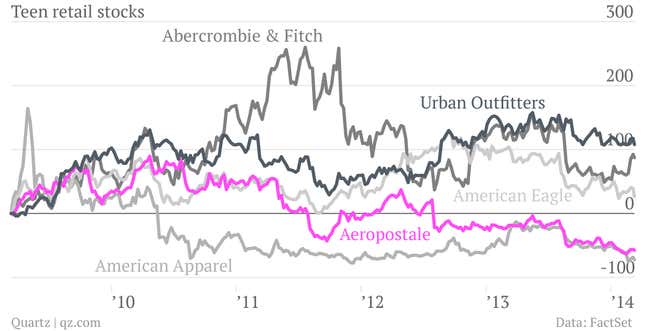 Amid concerns over its dwindling cash position, the company also secured a $150-million capital infusion from investment house Sycamore Partners. So how does it plan to survive?  In part by rolling out exclusive clothing lines linked to pop culture icons that make "an emotional connection" with its teen customers. These include a line based on the TV show "Pretty Little Liars" and another with an 18-year-old online star Bethany Mota, who has more YouTube followers (5 million) than Lady Gaga. The California teen, who also has 2 million Instagram followers, reportedly still lives with her parents in northern California.
Aéropostale said the Mota line has been one of its strongest-performing segments, which "exceeded our expectations" with "very high sales" and margins. The company wants to achieve more than $50 million in sales from the collection next year and as a result, is planning to test more sub-brands, product extensions and explore new partnerships.
"The way that the teenagers socialize," Johnson said, making an observation that's probably not news to any parent, "is completely different than it was just a few years back."