Brian O'Driscoll, the man responsible for much of the growth of the sport of rugby in Ireland over the past decade, will play his final match for his country today in Paris.
The 35-year-old Dubliner will lace up his boots for a world-record 141st international, as Ireland attempts to defeat France and clinch a rare victory of rugby's oldest international tournament. It's the final weekend of the Six Nations Championship, which has been around, in various forms, since 1910. In other fixtures, England plays Italy in Rome, and Wales faces Scotland in Cardiff.
Once a much smaller sport in Ireland than indigenous games such as Gaelic football and hurling, rugby has experienced rapid growth over the past decade-and-a-half since the game turned professional. O'Driscoll, a genuine superstar considered one of the greatest outside backs in the history of the game, is a big part of that. His on-field achievements are many, including leading Ireland to its first "grand slam" (victory over each of the other five teams in the Six Nations) for the first time in 50 years in 2009, and winning three European club titles with Dublin-based Leinster.
But his greatest achievement might be helping rugby become a sustainable sport in Ireland, which was hit especially hard by the post-2008 recession and ensuing climate of fiscal austerity. In recent years, crowds for professional matches and participation levels have both grown. Despite the gloomy economic climate, revenues for Irish rugby's governing body tripled between 2001 and 2011, to €69.2m ($96.3 million), the Financial Times (paywall) reported in 2012.
Ireland now has nearly 180,000 registered rugby players. On a per-capita basis, that's the second-highest among Europe's major rugby-playing countries, behind only England, which has more than 2 million registered players.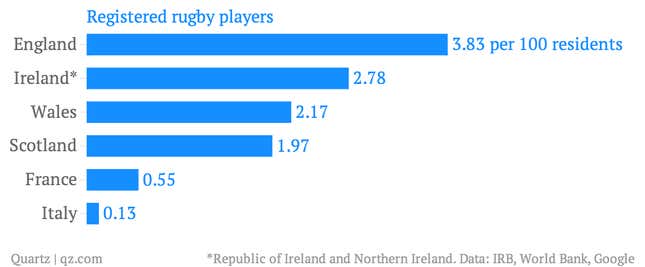 Rugby is also unique in Ireland in being the only major sport where the two political entities—the independent Republic of Ireland and the British province of Northern Ireland—play as part of the same team. The two entities are represented separately in soccer, and at the Olympics, Northern Ireland is part of Great Britain. For O'Driscoll, a victory today would be a fitting finale.