Malaysia Airlines flight 370 is not the only craft to have vanished this week. A North Korean-flagged oil tanker, the Morning Glory, hasn't been seen since illicitly loading up with some $25 million of crude at a Libyan port, earlier this week, then sailing away while under attack by armed sailors.
The Morning Glory had taken on 234,000 barrels of Libyan crude at the eastern port of Es Sidr, which is held by Libyan rebels. The Libyan navy tried to seize it and escort it to a government-held port on March 10, but it escaped while under escort, even though the navy fired on it. It was thought to be heading toward—or even eventually anchored in—Egyptian waters, although that isn't known with certainty. Here is a photo taken of the tanker in Es Sidr on March 8, while officials were figuring out how to react.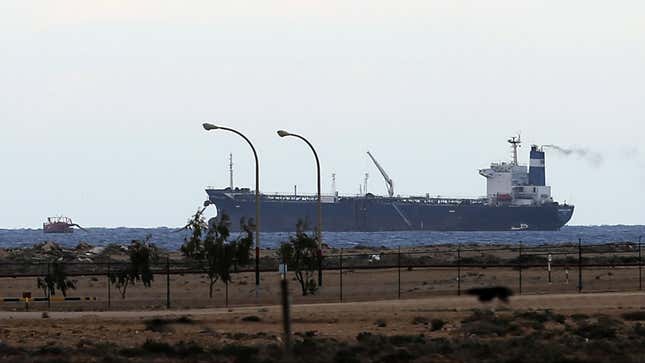 According to the ship-tracking website Vessel Finder, the Morning Glory hasn't signaled its location since the escape—in fact, it last officially transmitted its location March 1. On March 13, the ship became wholly illegal—a fugitive—when North Korea revoked its registration.
Es Sidr is controlled by a militia that says it is seeking autonomy from Tripoli, and meanwhile has refused for eight months to ship any oil on behalf of the central government. It has, however, wished to sell oil on its own, something it had not managed until now, since recognized shippers do not ordinarily work with rebel forces when the penalty could be lawsuits and black-listing over the long term. Tripoli's standoff with its eastern regions had already cost Libya $8 billion by the end of 2013, according to its oil ministry.
Antics like those of the Morning Glory are almost unheard-of: Oil tankers, being flammable, are not known to get willingly into situations where they are fired on. Nor are they prone to going on the run, lending the scene the picture of a pirate cove.
Indeed, oil minister Omar Shakmak called the loading an "act of piracy," and on March 11, an exasperated parliament fired prime minister Ali Zeidan and elevated defense minister Abdullah al-Thinni to the post on an interim basis.