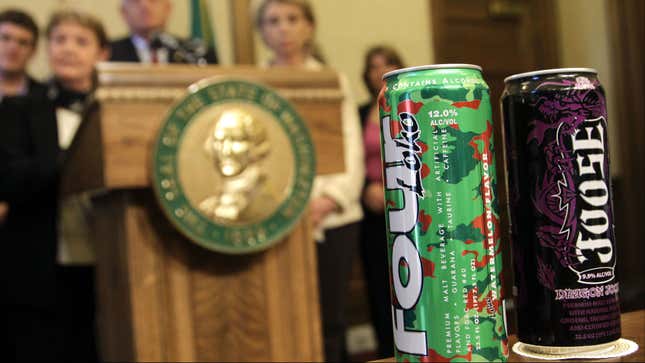 Investors are betting that caffeine-spiked energy drinks could soon lose their kick. Shares in Monster Beverage and PepsiCo (which makes the energy drink AMP) have slipped this week after a report filed with the US Food and Drug Administration (FDA) suggested that five Americans may have died from drinking too much Monster.
One of the world's fastest-growing beverage categories, the energy drink as we know it was pioneered in 1984 by Austria-based Red Bull (a private company unaffected by this week's stock slide). Entrepreneur Dietrich Mateschitz, the story goes, was sitting at the Mandarin Hotel bar in Hong Kong when he hatched the idea to bring high-energy Asian "tonic drinks" to the West. Red Bull has since made him a Forbes list billionaire and Austria's richest man, and its steady double-digit sales-growth has inspired a range of copycats.
Caffeine content ranges wildly across these competitors: some have less caffeine kick than a small coffee, while others pack three or four times that punch. Many drinks contain caffeine-rich guarana extract and taurine, an organic acid. Doctors have complained that health risks are under-researched, though, noting that energy drinks have been shown to boost heart rates among teenagers and to increase alcohol consumption, keeping drinkers alert and imbibing for longer periods of time.
Regulators and politicians across the US and elsewhere have been paying attention, proposing taxes and bans on county, state and federal levels. Some regulations are pending, some have been repealed, some are in force. A sampling include:
1. European Union.  France, Denmark and Norway were among the first to restrict sales of the beverage. Europe's highest court, for example, backed a French ban on Red Bull in 2004. Still, that decision was effectively overturned in 2009, with courts noting that while countries had a right to prohibit the drinks, they had not in this case demonstrated a health risk.
2. Russia and the Baltics. Russia's majority-Muslim state Chechnya last year announced plans to ban the sale of energy drinks to minors, with a deputy health minister directly comparing the beverages to beer, restricted under Islam. Latvia has also considered prohibiting sales to people under 18, while Lithuania has pushed to ban advertising to minors instead.
3. Mexico. Mexico today has some of the world's toughest energy-drink restrictions, according to market research firm Euromonitor International. Sales are taxed by 25%, pushing the average price of a liter to about 66 pesos ($5.00) last year. Mexico's Senate last year voted to ban sales (Spanish) in bars and restaurants, when mixed with alcohol; and to prohibit people under 18 from buying.
4. United States. The state of Kentucky and New York's Suffolk County have also mulled banning sales to minors; while local school districts from Manatee County, Florida, to Fairfax County, Virginia have prohibited consumption for students or student athletes. New York state is meanwhile investigating whether three top manufacturers accurately disclose how much caffeine their drinks hold and what health risks they may pose. The clearest crackdown, though, has been on the makers of fruity, high-energy drinks that also include alcohol: In late 2009, a series of alcohol-related deaths prompted the FDA to warn the companies behind brands including caffeinated malt-liquor Four Loko to stop mixing caffeine into their brews.