Electric vehicles (EVs for short) are no longer just cool toys reserved for wealthy futurists. They are becoming a viable option for car drivers around the world due to increasing affordability and mileage range. Governments are also driving demand with mounting pressures to decrease carbon emissions. Our latest presentation for Quartz members explores the past, present, and future of the growing EV industry.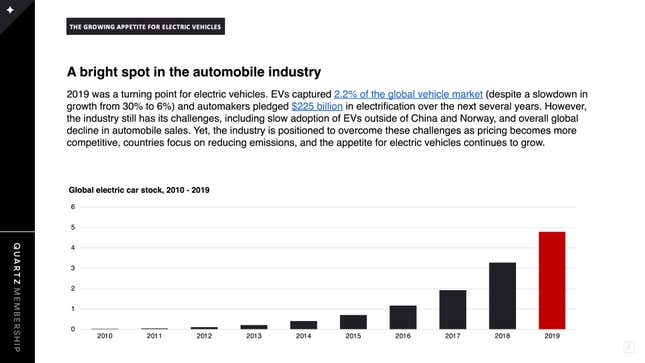 EVs are a bright spot in the slumping automobile industry. In 2010 only 17,000 electric vehicles were on the world's roads. That number has dramatically risen to 7.2 million (4.7 million for pure EVs). Until 2016, EVs had experienced year-on-year growth of over 30%. Growth has slowed down since then. 
China is the world's largest automobile market, so it's no surprise that it leads other countries in EV sales by volume. Government subsidies are largely responsible for this trend as the nation aggressively fights pollution. Europe leads in EVs by market share with policy also playing a major role. 
In the US, by contrast, only 19% of consumers say they expect their next car to be an EV. Concerns about limited range are a major factor, alongside cost and policy.
More affordable EVs have appeared on the market in recent years, creating a range of options for consumers. These vehicles offer better range, more refined styles, and zippier acceleration than some of their predecessors.
Cars aren't the only growing EV segment. Electric buses have long been a favorite of governments, but the private sector is realizing electric delivery trucks can save them money. In the EU and North America, the biggest news was Amazon's order of 100,000 electric delivery vans from the Detroit startup Rivian. Los Angeles based startup, Chanje, already has its e-trucks on the road. In 2018, it sold 900 vans to Ryder, a trucking company, and an additional 100 to FedEx.
The growing EV industry couldn't escape the reach of the coronavirus pandemic. Vehicle sales dropped for the first time in China since April 2019 and globally sales are expected to drop by 40%. However, the industry proved resilient in Europe where sales experienced a 31%. 
By 2030, experts predict that EVs will make up 40% of the global automobile market. Companies are placing their bets on the future, investing more than $225 billion in research and development of EVs. The winners of this market will be those with the cash and funding to survive the pandemic's impact on the automobile industry and focus on innovation and usability.
Keep scrolling to see all of the slides. Or, if you'd prefer, you can view the PDF version or download the PowerPoint file, which includes our sources and notes. This is one of an ongoing series of member-exclusive presentations, which you can read, reformat, and use as you wish.