The top leadership team at Samsung, made up of its three co-CEOs and CFO, makes $30.6 million combined, the Sowan, Korea-based company revealed at its annual shareholder meeting. That's less than some individual executives make at American tech companies such as Google and Apple.
Google chairman Eric Schmidt was just awarded a one-time payout of stock worth $100 million earlier this year. Google CFO Patrick Pichette ($38,741,106) and chief business officer Nikesh Arora ($51,145,868)  both individually out-earned Samsung's top four in 2012 according to the company's most recent proxy filing.
Over at Samsung's arch-rival in the smartphone sector, Apple, executive compensation is down from past years. But in 2012, there were handsome individual awards to executives like outgoing CFO Peter Oppenheimer ($68,591,562), software lead Eddie Cue ($50,420,415), and operations vice-president Jeffrey Williams ($68,691,612).
You can find similar figures throughout the American technology industry. In its proposal asking shareholders to raise the caps on compensation, Samsung included data comparing top executive compensation to American peers. The chart compares compensation of the top 4 executives at Samsung to those at other technology companies as reported in their FY 2012 proxy statements: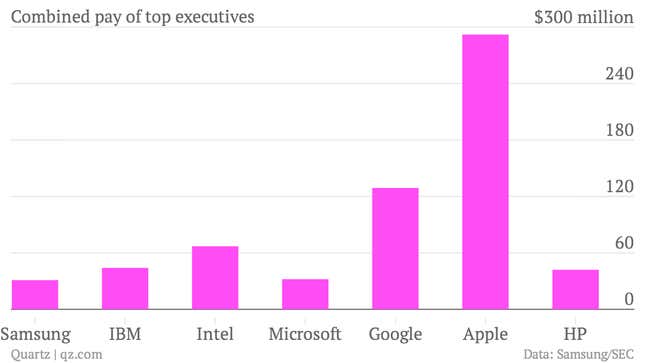 Behind the gap is a major difference in attitudes about pay. In Korea, a combination of corporate governance efforts and culture has kept salaries lower. Samsung actually tends to be on the high end in terms of compensation in the country. Shareholders can and do vote to set upper limits on pay. Even though the rules about pay disclosure are lax in comparison to the United States, compensation is often a fraction of the norms in America.
CEO pay in Japan and Europe is higher than in Korea, but still lower than the United States. CEO compensation in America grew by 876% from 1978 to 2011, according to the Economic Policy Institute.
Skyrocketing executive pay means that American tech companies have a powerful draw to attract and retain the best talent from around the world. But the sumptuous salaries at Google and Apple continue to pressure pay upward throughout the tech sector.