On a clear day in Miami, Florida, a drone buzzes overhead, carefully scanning the ground below. Across town, on the eighth floor of a municipal office building, a team of archivists pore over thousands of pages of building plans. Meanwhile, on the street, a squad of surveyors searches for clues to a mystery lying beneath their feet.
These efforts will combine to create the most detailed map ever of Miami's topography, its patchwork of sea walls, and the hidden web of drains, pipes, and pumps that keep its streets dry. When it's done, engineers will have an elaborate model of the city that they can inundate with virtual rising seas and 100-year storms. Those simulations will tell them, in granular detail, which parts of town will flood and which buildings will see the most damage from future storms.
The city has its eye on the future. In the next 50 years, researchers project that South Florida will see 21 to 54 inches (0.5 to 1.4 meters) of sea level rise above 2000 levels. Days with extreme rainfall are expected to become 9% to 12% more common in the southeast by the middle of the century. And hurricanes are expected to get rainier and cause larger storm surges.
Armed with these simulations, city planners and politicians will decide how to spend the $192 million raised for flood prevention through the 2017 Miami Forever Bond. It's a significant investment in climate resilience—but only a fraction of the billions officials say they'll need to keep Miami livable. The deficit will leave the city with tough choices about which neighborhoods and projects to prioritize and which to put off.
---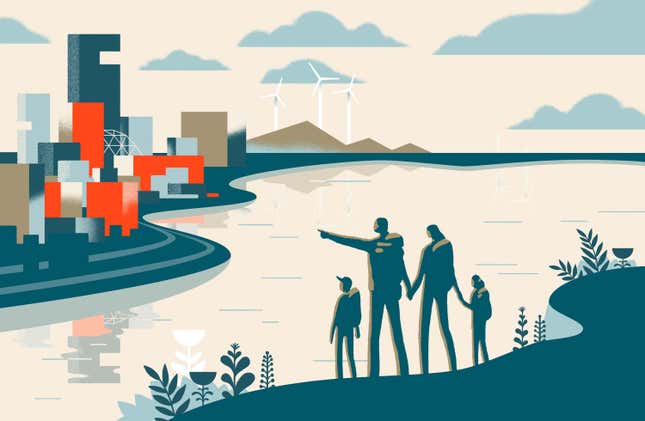 How will history remember the cities that adapt to climate migration? Visit the museum exhibition for Leeside, climate haven of the future.
---
Many appear ready to leave Miami for dead. But in the absence of a coordinated federal response to climate change, Miami, like many local governments, is taking its own steps to confront the challenge. The only question is whether those measures will take shape fast enough, and which residents might be forced to leave before they're done.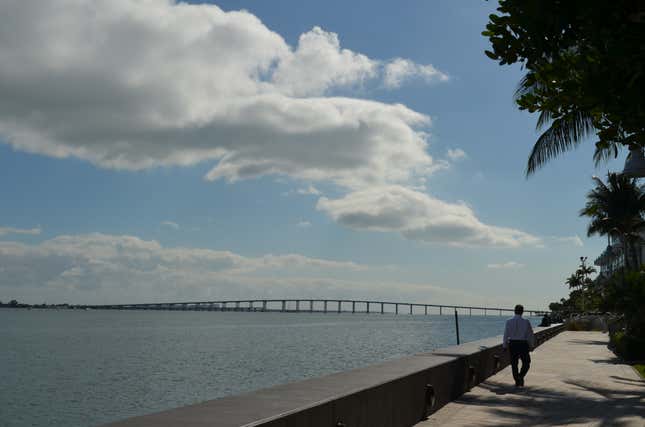 Modeling a miniature Miami
Miami exists in a delicate balancing act with water. To the west, levies keep Everglades waters from following their natural course into the city. A system of canals, catch basins, and stormwater pipes collect rainfall and drain it out to sea, which is just a few feet lower than street elevation even at the city's highest points. Sea walls fend off high tides and storm surges, and engineers calibrate how much freshwater pours into underground aquifers to keep the drinking supply safe from intruding ocean water.
Climate change threatens this precarious balance. "The canals and other water control structures that are in places like Miami do not account for sea level rise," says Jayantha Obeysekera, a water engineer and research professor at Florida International University.
To restore the city's truce with the water, Miami began working on a stormwater master plan in 2017. "When we design infrastructure, we're designing it for the needs of the next 30 to 40 years," said Alan Dodd, director of the city's Department of Resilience and Public Works. But before the city builds anything, Dodd's department needs to gather a mountain of data.
First, drones equipped with light detection and ranging (LIDAR) sensors canvassed the city, bouncing lasers off the ground every 15 to 20 feet to get elevation readings. The drones gave city authorities their first high-definition map of Miami's sea walls, 80% of which run along private property and are built and maintained by private owners.
Meanwhile, a team of city employees has been leafing through 35,000 sheets of archival plans to catalog stormwater infrastructure. They take note of every manhole, pipe, storm drain, and gutter, which get added to the topographical map generated by the drone data. So far, the team has identified over 28,000 drains and 100 miles of pipe.
Sometimes, the decades-old infrastructure plans conflict with each other, and some areas have no archived plans at all. That's where the surveyors come in. At one point, eight teams were combing the streets to investigate blank spots on the map. They've found forgotten structures that city authorities lost track of years ago. "We had a 30-inch pipe that was 80% blocked with dirt and mud because we didn't know the structure existed," Dodd says.
By January, Dodd said they had mapped a third of the city. And when the model is complete, city officials say they'll be able to simulate the path of a raindrop from splashdown, through gutters, pipes, and canals, and out to sea. Engineers will model the impact of storms, king tides, and hurricanes as far as 50 years into the future, predicting which blocks of the city will flood.
"If we can truly replicate in this model what it will look like in 2060 or 2070," says Dodd, "then we can build to that, and it'll withstand the test of time." But not everyone is convinced that all the neighborhoods that need protection will get help in time.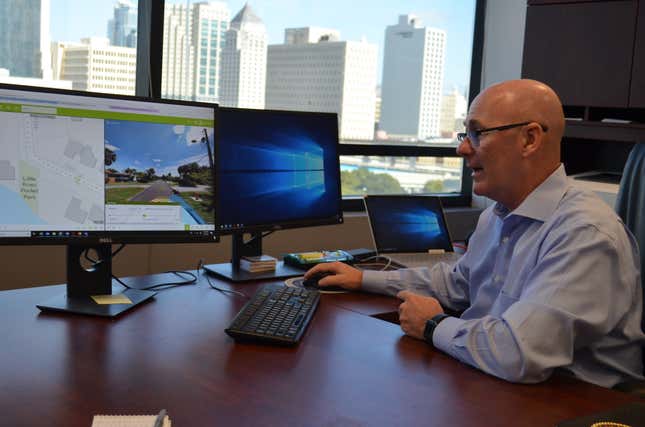 Putting the model to use
Miami's model won't stop at tracking the flow of water. Its ultimate goal is to predict damage in dollars, by combining data like property values, estimated water levels, and first floor elevations. Dodd's office will use damage estimates to come up with a list of 20 flood control projects the engineers believe the city should prioritize.
They're working with a $192 million budget, and Dodd says the total cost to protect Miami through the end of the century "can be in the billions very easily." So much of the work must be deferred until the city can find more funding.
Dodd insists no corner of the city will be left behind. "There's going to be hard choices more so on prioritization and sequencing than the investments themselves," Dodd says. "Some areas don't need anything right now, but they're going to need it in 20 or 30 years, so we don't need to do that work for another 20 or 30 years."
Elected officials project a similar level of confidence that every inch of the city can be saved. They reject the idea that Miami will have to make decisions like Monroe County, home to the Florida Keys, which last year determined that it could not afford to spend hundreds of millions of dollars to save a three-mile stretch of road with about two dozen homes; those residents have been left to fend for themselves.
"I refuse to do a Monroe County retreat style of planning," said city commissioner Ken Russell, who represents a district that covers Miami's entire shoreline. "I think a negative cycle would start if we did start to retreat, because then we're eating away at our tax base by taking valuable property off the tax roll, which was generating funds that will help us address these issues in the long term."
Some researchers, however, doubt the city will have much of a choice. Ben Kirtman, who runs the University of Miami's climate modeling program, says residents will be forced to retreat unless global carbon emissions drop precipitously. "I think we need to have that conversation now," Kirtman says. "If we don't have the political will to to significantly reduce emissions over the next 15 years, then what else can we do but have political will to talk about what parts [of Miami] we're going to give up on?"
These are stark choices that cannot be made using models alone, says Zelalem Adefris, the resilience director for Catalyst Miami, a nonprofit that advocates for low-wealth communities across Miami-Dade County. "I definitely think that equity and justice should be prioritized," Adefris said. Sea level rise is already worsening inequality in the city through climate gentrification, she points out: In neighborhoods like Little Haiti, which is built on the highest ground in town, rents are rising, displacing a community that has lived there for generations.
There will be winners and losers in the city's decisions about which neighborhoods to prioritize, says Jesse Keenan, a Harvard urban design researcher who studies climate gentrification in Miami. To balance the scales, Adefris argues that local governments need to reach out to residents and place community input—not just damage estimates and flood models—at the center of their planning. "If you're not in it and living that," she says, "it might not be malicious, but you're not going to see the ways in which the policy you create is going to have disproportionately negative impacts on certain segments of the population."
The high stakes and budget constraints make accurate flood modeling all the more crucial for Miami's survival, Dodd says. Because his team can predict which neighborhoods will face the brunt of flooding first, the city can focus on immediately threatened areas and buy itself time to raise more money. "As we go through the $192 million and we spend it," Dodd says, "the city can start preparing for another bond."
But like it or not, Keenan predicts, economic factors will force the city to retreat to a smaller footprint on high ground. "In the long term, that is what the bond markets and real estate developers and ultimately the market economy will demand," he said. "What I worry about is not whether governments decide to do this, but whether markets will beat them to it and make these determinations for them."
Spending for the future
The city has already begun to spend some of the Miami Forever money. Dodd's department has spent $2.5 million to install one-way valves on 50 of the stormwater system's 480 outflow pipes, keeping seawater from bubbling up onto the streets. It put $3.6 million toward road and drain repairs, plus a new pump station in a low-lying neighborhood. It has plowed $2 million into planning proof-of-concept projects to raise parts of the city.

But the scale of these investments pales in comparison to the work that remains. Miami faces a daunting fight for its survival—and ultimately, a flood model won't save the city. It's up to community members, academics, and political leaders to face the rising sea.
Kirtman and Keenan say the city should take this opportunity to begin planning its retreat to high ground. "That takes many, many years and that's a very difficult conversation," says Kirtman, "and I don't see anyone starting to really embrace having that conversation in Miami."
But Obeysekera, the Florida International University water engineer, says it's important to preserve people's faith that Miami will stick around. "We have this bad publicity and that has some repercussions for the economy," he said. Pessimistic predictions could cause residents to flee and flood insurance premiums to rise.
Meanwhile, Miami Mayor Francis Suarez won't entertain the thought of abandoning parts of the city to sea level rise.
Suarez is focused on the political reality: He has a limited budget, and he needs to find flood control projects that will attract matching funds from the state and federal governments—and help him convince voters to back him on future spending. "In the next phase, we're going to be potentially advocating for a tax increase," Suarez said. "I think the only way you can successfully do that is if you can correlate your expenditures to, let's say, reductions in [flood insurance] premiums."
But Adefris, the Catalyst Miami advocate, says the city needs to be thinking beyond dollars and cents. She hopes the city will put part of its budget toward holding community meetings—making it easier to show up by providing food and childcare—where affected residents can share their ideas about Miami's future.
"If you don't have public input, or if a small portion of professionals are making the call for what we want our future to look like," she said, "chances are we're not going to do it in a way that works for everyone."