When Michelle Obama begins her six-day trip to China on March 20, she'll disembark with her two daughters and an unusual diplomatic asset: her 76-year-old mother, Marian Robinson. She lives with the Obamas in the White House—the first "first grandmother" to do so since Elvira "Minnie" Doud, Mamie Eisenhower's mother, according to Grandparents.com, which tracks such things.
It's an unusual arrangement in the US, where over-65-year-olds make up more than 35% of people living alone—but not in China, where migration patterns, cultural tradition and an early retirement age often makes grandparents the primary child care providers. Like many Chinese grandparents, as well as those in India and many other parts of Asia, Robinson spends much of her time caring for her granddaughters Sasha and Malia, including taking them to school, going to school functions, helping with homework, and babysitting.
Robinson retired from her job as a bank secretary to play the same role for her daughter and son-in-law when they were on the campaign trail. But her inclusion in the China trip seems to be about diplomacy, not convenience.

The Obamas "understand the significance as well of family and of three generations of family traveling together, which I think the Chinese will appreciate, and will appreciate the ties and the bonds that the Obama family have with one another across generations," Tina Tchen, the US first lady's chief-of-staff, told reporters ahead of the trip.
Obama's trip comes as fears about China's economy mount, the country flexes its muscles in disputed areas of the South China Sea and continues to crack down on dissenting voices on the internet and activists. But none of these will be topics on the trip, officials say, describing it instead as a way to spread the "power of American values," and the importance of education. She won't meet with Chinese president Xi Jinping, but will visit with his wife Peng Liyuan, visit schools and tourist highlights and eat lunch at a Tibetan restaurant.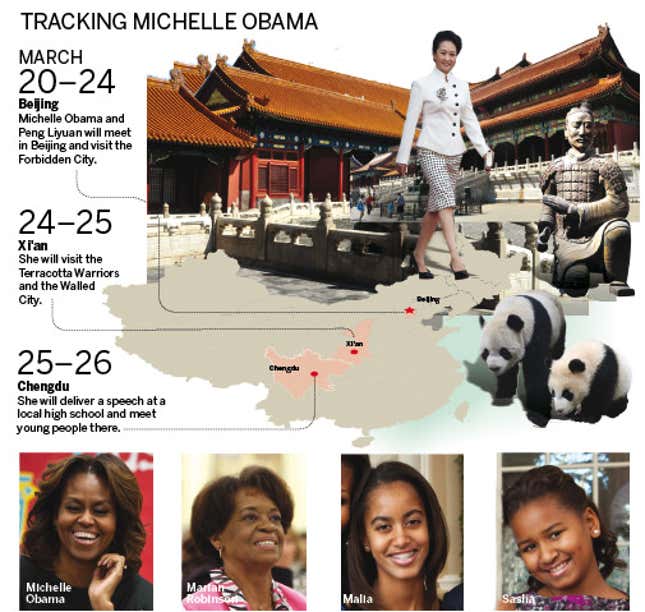 China's state media are certainly enthusiastic about the three generations of visitors, including Robinson in previews of the trip, like this one from China Daily:

Ahead of the trip, Chinese media are also zeroing on the two first ladies' taste in clothes, which some feel is sympatico. So far, Robinson's fashion sense has evaded scrutiny.