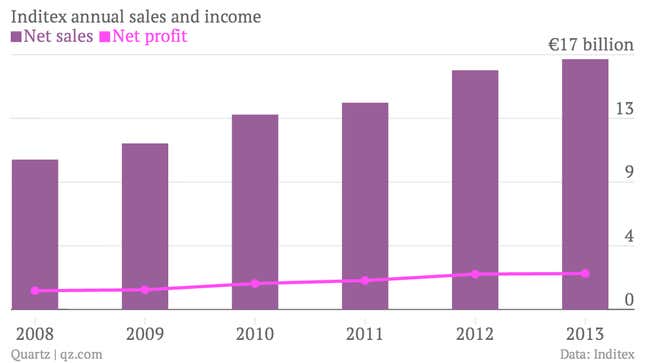 The numbers: Inditex, the world's largest clothing retailer, best known for its Zara chain, reported almost flat net profit for 2013—€2.4 billion, or $3.3 billion—in line with expectations but only 1% higher than the year before.
The takeaway: Inditex has increased profit every year since it first listed in 2001—but those days may be over soon. Profit growth has shrunk over the last few years, pushing the company to look more to emerging markets for new growth. Inditex plans to open between 450 and 500 new stores this year, as well as online operations to serve shoppers in Mexico and South Korea.
What's interesting: Inditex's rivals are starting to beat the company on its own turf, using the fast fashion model that Inditex pioneered—copying high-fashion designs within a matter of weeks of their appearance on a runway—but at cheaper prices. Inditex's home country, Spain, now accounts for only 19% of its total sales, down from 21% in 2012 and 37% in 2007. Sweden's H&M and Britain's Primark, by contrast, have grown in Spain. When Inditex's sales fell 5.5% in 2012, H&M's rose 5%. To compete, Inditex has now opened its own discount stores in the country, under the name "Lefties", to sell last season's leftover Zara clothes.