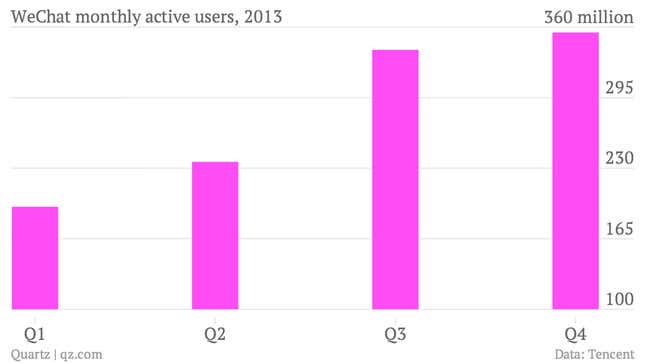 The numbers: China's biggest publicly-listed technology company posted fourth-quarter net income of 3.91 billion yuan ($631.5 million), up 13% from the previous year. That was in  line with estimates, according to Reuters, or fell slightly short, according to Bloomberg. Advertising revenue surged by 70%, to 3.4 billion yuan, but sales and marketing expenses were also up sharply as the company tried to add more users outside of China for its WeChat messaging app.
The takeaway: WeChat, the cornerstone of Tencent's growth strategy, is an all-encompassing e-commerce platform that offers everything from taxi hailing to financial services. But user growth is starting to flatten out—the number of monthly active users at the end of the fourth quarter was up only 6% from the previous quarter.
What's interesting: Tencent seems to recognize the limits of WeChat's domestic growth, especially as it's vying with rival e-commerce firm Alibaba to find new allies and acquisitions in the battle for China's internet. To diversify, Tencent has recently bought stakes in e-commerce firm JD.com, the Yelp-like service Dianping, and mobile retailer Maimaibao. CEO Pony Ma vowed to "invest in long-term opportunities such as online video, online payment and WeChat international expansion."
It's also telling that the company had nothing to say about many investors' biggest fears: That Beijing may be preparing for stricter oversight of online banking, and a political crackdown on prominent WeChat users.