The youngest billionaire in the world is 24 years old. Sound too good to be true? Precisely.
Perenna Kei Hoi-ting, a resident of Hong Kong, arrived on the Forbes' billionaire list in style with the IPO of her Chinese real estate firm, Logan Property Holdings, in December. Her 85% ownership stake in the firm led the magazine to calculate her net worth at $1.3 billion.
Kei, a graduate of the London School of Economics, didn't earn this fortune by starting a company and boot-strapping her way to rapid success. And she didn't inherit young, either. Instead, she appears to be helping her dad, Ji Haipeng, the real power at Logan Property Holdings.
It goes like this (as reported by the South China Morning Post): Logan Property was incorporated in the Cayman Islands with Kei as the sole shareholder in 2010, when she was just 20. Through a series of transactions in the years that followed, Kei became the majority owner through several British Virgin Islands holding companies and a family trust she created in Guernsey: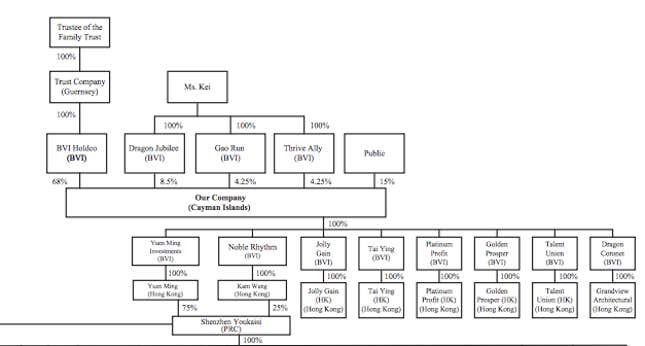 While her father is a citizen of China, where offshore companies must be disclosed to the government and their dividends are taxed, Kei became a resident of Hong Kong in 2012. (She is also a citizen of Nevis and St. Kitts, a privilege you can buy for just $250,000.) Hong Kong residents can own offshore companies without disclosing them to the Chinese government, and their dividends aren't taxed.
By putting the company in his daughter's name, Ji is able to keep $1.3 billion—and the company's future growth—out of sight of China's authorities, without breaking any law. The company had not yet responded to a request for comment at publication. It makes no bones, however, about the fact that Ji is the power behind the throne; as the IPO prospectus (pdf) says:
Given that Ms Kei has limited experience in the real estate business, a declaration was made by Ms Kei which declared the ultimate control over all major affairs of the group are vested in Mr Ji, the father of Ms Kei, and Ms Kei had and will continue to act under the instruction of Mr Ji from time to time.
While it's impossible to say how common this arrangement is, Hong Kong's laws have made it a popular tax haven for China's wealthy—and a convenient place for money to slip outside the country's strict capital controls.