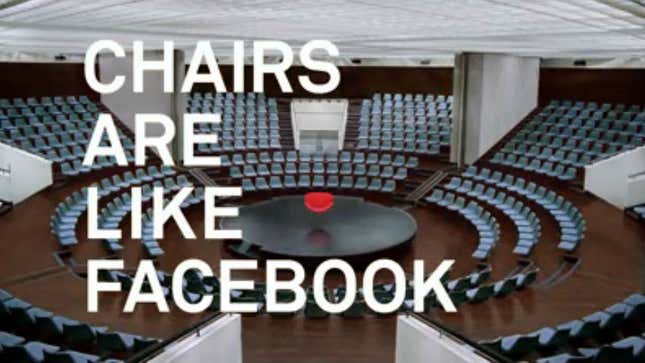 Facebook held its second-ever quarterly earnings call today, and with shares still down at around half their $38 IPO price, CEO Mark Zuckerberg and his lieutenants seemed keen to emphasize that the company is hell-bent on making money. Their exhibit A: Facebook's earnings report showed what appears to be accelerating growth in advertising revenue.
The company earned $1.09 billion in ad revenue in the third quarter of 2012, which is 10% growth since the previous quarter and faster than the same period in 2011. Of that revenue, 14% was on mobile, "after just 6 months of ramping up our mobile ad business," said Zuckerberg.
The company now has an almost bewildering array of advertising products. Zuckerberg mentioned that he was "most excited" about a handful of them:
"Mobile app installs" is a way for users of smartphones and tablets to find apps through Facebook's new "app center," and then be directed to install them via iTunes or the Android app store. Zuckerberg says that since apps are so pervasive on mobile devices, "[app] installs are way more valuable" for advertising purposes than simply linking to a website.
Custom Audience ads allow businesses to upload a list of their customers' email addresses, and then advertise to them directly on Facebook.
Facebook Gifts let users send physical gifts to one another, like chocolate or flowers. It could be the company's first move into the potentially lucrative world of e-commerce.
But what's really driving the company's ad revenue appears to be its new strategy of simply jamming more traditional advertising right in the middle of customers' stream of updates, where their friends can't help but see them. According to Facebook, brand advertising conducted through "sponsored posts" that appear right in users' news streams returned three times as much money as advertisers spent on them in 70% of cases, and returned five times as much money in 50% of cases.
Zuckerberg sounded defensive when he emphasized that Facebook's "opportunity on mobile" was the "most misunderstood" part of its business. But investors have reason to be skeptical. Although the company is adding users at a fast clip—it was up 28% versus this time last year, led by growth in Japan, India and Brazil—its next billion users, whom it will find almost entirely in emerging markets and who will reach the site almost entirely on mobile devices, may not be as lucrative as its first billion.
However, Facebook's leaders seem confident that it has only just begun to squeeze advertising dollars out of its existing audience, 600 million of whom are now accessing the site on mobile devices. And the fact that it's still adding users so fast suggests that the increased level of advertising hasn't turned people off Facebook… yet.