Covid-19 is transforming the global economy, halting some industries temporarily and changing some for good. Sectors such as travel, hospitality, and retail experienced sharp declines in revenue that were mostly unavoidable. Software and cloud-computing businesses thrived as nearly every company's digital operations expanded. And sectors like banking and retail saw preexisting trends accelerate: the pandemic pushed even more activity online.
In this week's presentation, we explore how several different industries including retail, venture capital, corporate real estate, banking, and higher education are adapting to Covid-19 and preparing for a new normal.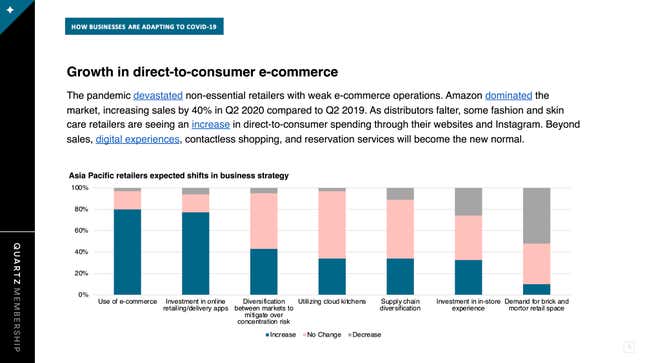 Government-mandated lockdowns all over the world helped accelerate e-commerce. For example, because major distributors like malls were closed, cosmetic brands relied on direct marketing channels including websites and social media platforms to drive sales. US beauty online spending grew by more than 30% in several categories in 2020 compared to 2019. Digital payments brand, Square, recorded a 186% increase in beauty kit sales in April.
The growth in online spending helped increase demand for delivery services. In the US, delivery jobs grew by 8% from February to July. As e-commerce grows, companies are rethinking their supply-chain strategies. Covid-19's disruption of the global supply chain exposed the need for companies to diversify suppliers outside of China and invest in digital supply networks, according to a Deloitte report.
Despite a recession, many startups are either positively affected or not affected by the pandemic, according to a working paper that surveyed venture capitalists around the world about their portfolio companies. And some corners of the startup world are thriving: African startups surprisingly reported a year-over-year 30% increase in the first quarter of 2020 and digital health startups already raised a record $5.4 billion in the first half of 2020. These numbers contrast with earlier predictions of a funding drought. In May, 41% of startups reported they were in danger of running out of cash within three months.
Keep scrolling to see all of the slides. Or, if you'd prefer, you can view the PDF version or download the PowerPoint file, which includes our sources and notes. This is one of an ongoing series of member-exclusive presentations, which you can read, reformat, and use as you wish.
Please share any feedback about what would make these presentations more useful—or topics you'd like to see us cover—by emailing us at members@qz.com. These presentations are an exclusive benefit for Quartz members. We'd love it if you'd encourage any friends or colleagues who express interest to become a member so they can access them too.