The passing of Proposition 22 in California marks the beginning of a new chapter for the gig economy and the fight for gig workers' rights. California will not require Uber and other gig platforms to classify drivers as employees, which would have required them to provide benefits and a minimum wage.
This week's presentation for Quartz members looks at the history and growth of the gig economy, the forces that are driving it, and implications for the future workforce.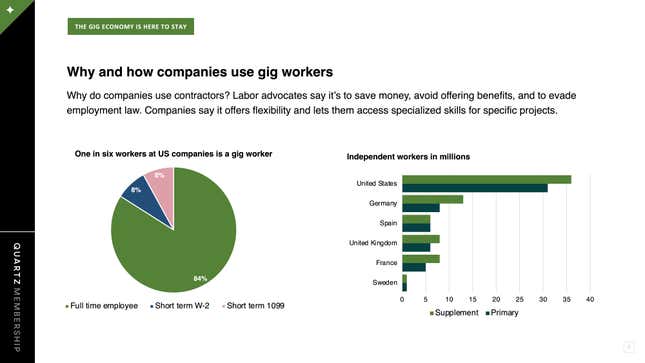 The gig economy spans beyond ride-sharing and food delivery and encompasses a vast array of professional services, however a standard definition for the gig economy does not yet exist. As a result, gig workers are defined by a plethora of names and various distinctions for full-time or part-time workers.
Gig workers represent 25%-30% of the American workforce according to surveys conducted by the McKinsey Global Institute, Freelancers Union, and MBO Partners. And the real number may be larger due to undercounting. Approximately 256 million workers participate in the global online platform economy according to the Online Labor Index but this number doesn't come close to including all "gigs," as most informal jobs in developing economies aren't coordinated through online platforms.
The rise of gig work can be attributed to the growth of online platforms like Uber and Lyft, which made it easier to buy and sell contract work. Investors have taken note, pouring billions of dollars into these platforms. The transportation-based services Uber, BlaBla Car, DoorDash, and Careem have raised $34 billion in private and public funding between them.
These platforms have also become the poster children of the emerging fight over labor rights for gig workers. Labor advocates argue that companies use gig workers to save money, to avoid offering benefits, and to evade employment law. Companies say it offers flexibility and lets them access specialized skills for specific projects.
While California's Proposition 22 went in favor of Uber and its peer companies, other parts of the world have resisted. In the UK, Uber's fight to reclassify workers has reached the supreme court and UberEats drivers in Japan have unionized.
Keep scrolling to see all of the slides in our gig economy presentation. Or, if you'd prefer, you can view the PDF version or download the PowerPoint file, which includes our sources and notes. This is one of an ongoing series of member-exclusive presentations, which you can read, reformat, and use as you wish.
Please share any feedback about what would make these presentations more useful—or topics you'd like to see us cover—by emailing us at members@qz.com. These presentations are an exclusive benefit for Quartz members. We'd love it if you'd encourage any friends or colleagues who express interest to become a member so they can access them too.