The Hong Kong Sevens rugby tournament that kicks off tonight is one of Asia's most highly-anticipated, big-ticket sporting events: the world's biggest investment banks are paying over $50,000 for corporate boxes for the HSBC-sponsored three-day affair, Cristal champagne maker Louis Roederer is throwing an after party, and Cathay Pacific sold fans tour packages at over a $1,000 a night.
It is also a throwback to a fast-receding past for Hong Kong's banker-types, a time before concepts like "increased regulatory oversight," "anti-harassment policies" and  "don't throw urine at other people" took all the fun out of fandom and finance.
To give you an idea of how debauched things get, CNN's guide on how to "survive" the Sevens this year features this advice from female attendees:
Winnie Poon, a fan who has been to the Hong Kong Sevens five times, has her own sage advice for fans—pace yourselves. Go overboard too early in the day and you run the risk of passing out next to a toilet many others have thrown up in, she says.

"There are always really drunk people," says Lindsay Varty. "So watch out for flying jugs and cups. They're not always full of beer."

"Ladies, wear closed-toe shoes unless you don't mind all manner of liquid between your toes," advises marketing executive Stephanie Szeto, who is about to enjoy her sixth year at the Sevens.
Fans, many originally from rugby-playing nations like Britain and Australia, pay hundreds of dollars for tickets to the 40,000-seat Hong Kong Stadium, where a series of matches are played through Sunday. Costumed revelry is expected—there's bound to be some groups of guys dressed as fruit, plenty of guys dressed as women and sometimes even guys in Borat-inspired skimpy thongs (this costume was banned by New Zealand's Sevens organizers back in 2008).Women's best costumes mostly feature cleavage, as a "Hong Kong Rugby Sevens Hotties" guide makes clear.
"Investors," Bloomberg promises, "will take their minds off concerns over a slowdown in China's economy, the world's second biggest, and feast on three days of fast-paced rugby." As one trader told Bloomberg, "The markets haven't been kind to most and I think this year's Sevens will be embraced even more so as a result."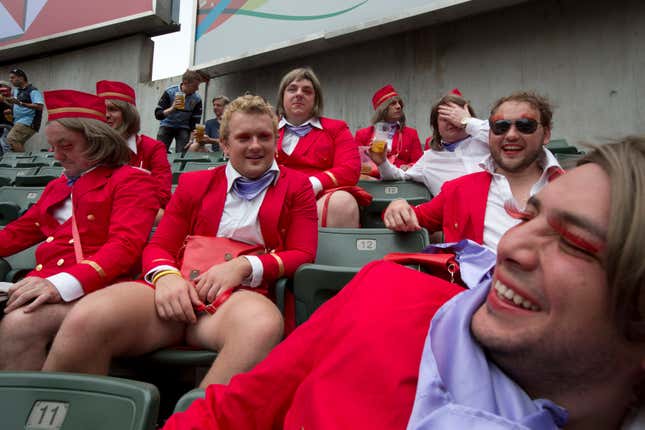 Thousands of fans who don't have tickets for the event are expected to flood Hong Kong from as far away as London and Canada, and the city has set up a 30,000 person big screen viewing area for them near the stadium. Hong Kong tourism authorities estimated in 2011 the event brought in almost HK$300 million in revenue to the city.
While the event certainly harkens back to a much earlier time, it has become a little bit more tame since it was first started in 1976. The last streaker that made it on to the pitch was probably this guy, back in 1997: