A rare hailstorm hurled golf ball-sized balls of ice at Hong Kong last night, punching holes in the roof of a Kowloon shopping mall, while heavy rains flooding subway stations, sent thousands of bolts of lightning into the city and surrounding area, and washed out the closing festivities for the Rugby Sevens. (The rains did not, however, dampen the New Zealand team's "shirts-off haka.")
Dramatic pictures were quickly posted to Twitter of water pouring into the seven-story Festival Walk shopping mall in Kowloon Tong:
and streaming through the light fixtures, flooding the floors below:
While lightning flashed over the city's skyline:
In addition to hail and "black storm" warnings (which mean that rain is expected to fall at a rate of over 70 millimeters an hour), the city's weather observatory also warned of landslides.
https://twitter.com/HKObservatory/status/450443374428831745/
In nearby Shenzhen on Mainland China, flights were grounded and parts of the airport flooded with water.
Was this a freak event, or a precursor of extreme weather to come in Hong Kong as the oceans warm and temperatures rise? With its high population density, sea level altitude and forests of glass skyscrapers, Hong Kong is uniquely positioned to suffer from the effects of climate change, Hong Kong University and CSR Asia predicted in a report at the end of 2008. Hong Kong can expect:
a significant increase in the frequency and intensity of extreme weather events, such as heat waves, tidal surges, typhoons and very heavy rainfall. Sea levels will continue to rise for decades. The impacts of these changes on Hong Kong will be increased risks of flooding, droughts and dangerously hot weather. There will also be secondary and indirect impacts, including an increased risk of infrastructure damage, ground instability and landslides, and further increases in dangerously poor air quality periods.
Hong Kong's temperatures have been slowly rising in recent decades, Hong Kong Observatory data through 2013 shows.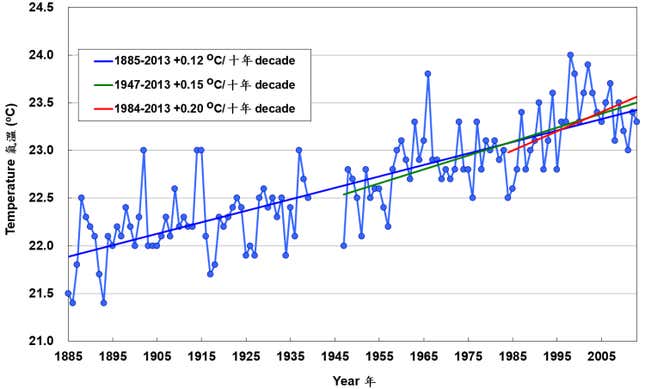 As many Hong Kongers will tell you, though, this winter season was unusually cold and changeable. At one point during this year's Winter Olympics, the temperature in subtropical Hong Kong was cooler than Sochi. Once last month, temperatures in the city dropped from 21.5 C (70.7 F) to 7.9 C (46.2 C) in less than 24 hours.
But hail itself, while rare in recent years, isn't actually that unusual for Hong Kong. In fact, 1983 was a banner year for hail storms, as Hong Kong Observatory data show: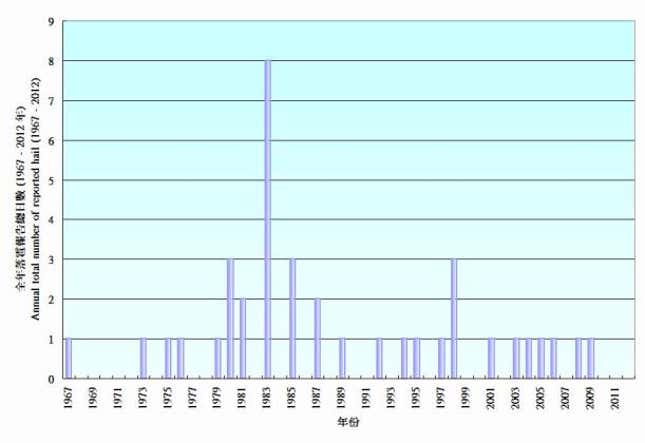 Feng Shui consultant Mak Ling-ling had a different explanation for the storm. She told the Hong Kong Standard that hail in large areas generally means a warning of an upcoming bad economic or unstable political environment.
"Hong Kong has seen hail many times in history. But hailstorms in large areas, including Guangzhou, Shenzhen and Hong Kong are rare," she said. "It could be a case of people's complaints not being heard."