Kingfisher Airlines, once one of India's premier airlines, is nose-diving rapidly into corporate annihilation. Almost 6,500 workers have not received pay since March, as the company ran out of cash and efforts to raise debt failed. Yet chairman and founder Vijay Mallya and his son Sidhartha, who was gifted the airline as his 18th birthday present, have been tweeting up a storm about their fabulous lives.
On Oct. 20, the regulatory body of India's civil aviation industry grounded the fleet and canceled Kingfisher's license. Just two days earlier, the younger Mallya had posted a recap of an evening in London to 350,000 followers.

Four days before that, he was following the  Korean Formula 1 race and tweeted about his good fortune at  having attended grand prix races all over the world, and noted with disappointment that Korea was the worst. "Feeling for everyone who's there," he wrote.
On Oct. 3, the wife of a Kingfisher engineer for the airline committed suicide amid financial difficulties. Three days before, Sidhartha Mallya's whereabouts:

(He was in Goa that week, where the photo shoot for the famous Kingfisher swimsuit calendar was taking place.)
Similarly, Vijay Mallya, who has 1.45 million followers, rarely mentions the beleaguered airlines in his tweets. On Sept. 21, he congratulated the prime minster on his address to the nation, then quickly moved on to Formula One himself on Sept. 23.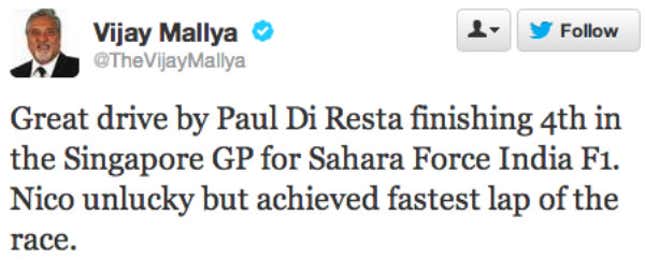 The elder Mallya is a part-owner of the Sahara Force 1 team. He reappeared on Twitter a week later, to retweet his son's request to be voted the GQ India Digital Man of the Year Award.
On Oct. 23, Mallya broke his silence and reacted to the criticism in the Indian press that he was "absconding" abroad.

Later that day, staff in Kingfisher Airlines' Mumbai office accepted the company's offer of resuming work upon being paid three months' salary. The Delhi employees are standing firm on a demand they be paid at least for four out of the seven months that their salaries have been due.
Understandably, there could be legal ramifications of the Mallyas commiserating with employees. But it's the mentions of their privileged life that really roil workers. "Here we are, taking loans and struggling to pay our children's school fees, and the father and son are busy flaunting their Formula 1 lifestyle. It makes my blood boil every time I see their tweets," says Antara Sharma, who once worked in ground staff checking passengers in and recently landed a new job at a hotel. "I am not even saying that they should not live this super fun life, but at least out of respect to us, they can stop broadcasting it."  She awaits five months' salary, still due to her.
Even Mallya's retort about his business commitments has not gone down well, leaving a perception that he doesn't value the airline as much as he should. The liquor baron's United Breweries, maker of Kingfisher beer, generates revenues of more than $700 million annually, but the airline has never been profitable. He was last spotted publicly at the Korean Grand Prix. His share of his Formula 1 team is only 42.5% and is widely regarded as a frivolous business to fuel a lifestyle.
When it launched, Kingfisher Airlines was a game-changer for many reasons. Liquor companies are forbidden from advertising and the airline allowed the eponymous beer brand to suddenly be everywhere. Kingfisher's flight attendants wore bright red uniforms, and offered eye masks and gourmet meals. "Mallya perhaps doesn't realize this, but he is eroding a lot of his goodwill because of this," says Mahesh Murthy, the founder of Pinstorm, a digital marketing and communication company. "Be contrite, be apologetic. People understand that businesses go through bad times. If he would just say, 'we are working on a solution to the problem, please bear with us,' it would go a really long way."
Mallya's response is generating ill will towards his other businesses. There have been calls on Twitter and Facebook to boycott Kingfisher beer and other spirits manufactured by United Breweries.
Even though Sidhartha Mallya does not hold a position in Kingfisher Airlines at the moment, he is the heir apparent of the business. "Here are people working in all of Mallya's businesses, reading his son's tweets right now and thinking, 'this guy is going to be our boss one day," Murthy adds.
This weekend, Oct 26-28, Vijay Mallya is expected in Noida for the Airtel Grand Prix. Employees are planning to demonstrate outside the venue and keep an  eye on his Twitter feed. Will he post race results, or will the apology finally come? Whatever he types, it will likely be too little, too late from this modern-day Nero, the man who tweeted while his company burned.