Nobody seems to sit down in the Kop. For spectators, it's sometimes not even possible to see the entire field of play. But that's not really the point; it's all about being there.
The Kop is a section of the stands at Anfield stadium, home to Liverpool Football Club, and it is occupied by the English Premier League (EPL) team's most hardcore fans. Named after the scene of a battle in the Boer War at the turn of the 20th century, the Kop—like dozens of similarly iconic sporting locations around the world—exists to drive the team forward, intimidate the opposition, and create an atmosphere, and sense of community, that normally attract visitors from all over the world.
The city of Liverpool, in the north west of England, has suffered greatly from the premature deaths and economic hardship of Covid-19, and its empty stadiums are a reminder of what it has lost. Too many other cities can identify with this.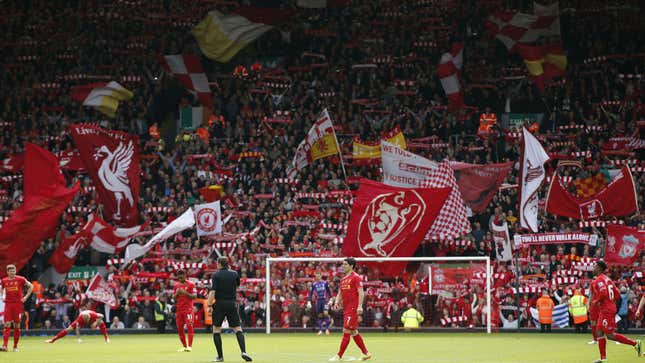 Since the end of March, when the British government finally understood the seriousness of the pandemic and shut everything down, England's stadiums sat empty. Without fans, they were desolate spaces, too big to be useful for anything other than wide shots of the game. If not for the demands of TV and advertisers, who need the infrastructure and camera angles, and use the unoccupied seating areas for large tarpaulins that display corporate messages, the games played at the stadium during the ban on spectators could have been played anywhere.
There was no atmosphere. In an age of television that's defined just as much by high-quality sound and near-immersive experiences as upgraded content, its loss resulted in an inferior product. TV companies used fake crowd noises, but it was a constant background drone, rather than real human beings adjusting to the rhythm and texture of a game as it ebbs and flows. The novelty of being able to hear players and coaches shout at each other quickly wore off.
On a cold December evening tonight (Dec. 6), the Kop welcomed back 2,000 fans for Liverpool's game against Premier League rivals Wolverhampton Wanderers, as the UK government and sporting authorities take the first tentative steps towards the return of spectators. From Dec. 2, under England's new three-tier lockdown system, Anfield can permit entry to 2,000 people in a stadium built for 50,000. Liverpool is in tier 2, as is London, while Manchester, England's most important and populous northern metropolis, is in tier 3. Its stadiums still cannot welcome visitors at all. There are no major teams in tier 1, which applies to just 1% of England's population, and where 4,000 spectators would be permitted.
In the great soccer nations across the world—the UK, Germany, Spain, Italy, Nigeria, Argentina, Brazil, Uruguay, and others—the stadium is, or was until this year, an essential part of life for thousands of people each week. They invested their time, energy, and plenty of money in the sometimes twice-weekly ritual of attending games. In all major sports, fans are an emotional and economic force that the whole edifice is built upon, the beating heart that sustains its health.
The return of a few fans in England is a start, and better than nothing. But they remain a small fraction of the number of spectators that used to pack stadiums every week, not to mention their surrounding bars, restaurants, hotels, transportation providers, and merchandise vendors. Most of the constituent parts of a modern, service-focused urban economy, in other words. Many people built their businesses and livelihoods on the premise that some of the thousands of weekly visitors might stop by and spend their hard-earned cash.
The return of sports, however gradual it may have to be, is an essential part of any return to normal life. The health of people, communities, and economies are all significantly connected to its resurrection. At the start of the pandemic, when it became clear that this was going to be a long-term situation, Liverpool's team manager Jürgen Klopp dusted off an old quote from the legendary Italian coach Arrigo Sacchi, who had called soccer "the most important of the unimportant things in life." Sports are a tangible barometer of the wellbeing of a nation, and the return of fans to stadiums—gathering, drinking, eating, shouting, singing, and swearing together—will be a sign that all is well once again.
As sports gradually make a comeback, they can impart lessons to any industry. How to organize safe gatherings at a large scale, for example; how to keep employees safe and facilitate international travel; how to renegotiate contracts and reach acceptable compromises; how to keep paying customers on side; how to keep valuable human assets motivated and ready to work; and even, how to use the enforced downtime to make longer-term plans and further investments.
"Most of the time, you're on a heavy hamster wheel of chaos and momentum," says Matt Goodman, chief operating officer at New York City FC, a Major League Soccer (MLS) team. "It's really hard to stop and strategize. And I think that the one area of opportunity that this pandemic provided us was the opportunity to focus on the business rather than constantly being in the business."

A world without sport
For several weeks from prime minister Boris Johnson's televised announcement of the UK's lockdown on March 23, there was no organized sport at all. Not just at the top level, either. Alongside big televised sports, amateur pick-up games, group training, and the use of swimming pools and gymnasiums were all prohibited, with potentially large fines for persistent rule-breakers. Similar types of shutdowns were in place across the world, with the gatherings of people and close physical contact that are associated with most sports seen as unnecessary risks, while transmission of this new disease was still poorly understood.
Since the first lockdowns began easing over the summer, most sports have returned in the UK and many other places. But not all. What we are now able to watch and participate in isn't quite the same as it was. And there are several more negative consequences whose full impact has not yet been felt.
In India, a country of nearly 1.4 billion people with a bare minimum of sporting facilities, the return of sports has been painfully slow, to the extent that Olympic hopefuls are considering packing it in. In west Africa, the very best young soccer players generally go to Europe, which has had strict travel restrictions in place. They are either losing precious time or, in desperation, falling into the hands of traffickers. In western countries like the UK, in spite of their wealth, venerable sporting institutions are fraying and crumbling because of a lack of income, as is the economic ecosystem that depends on them.
The English Premier League, the world's richest and most popular domestic soccer competition, stands to lose more than $1.3 billion this season, according to a report in June from Deloitte. Its teams have always operated at the edges of fiscal responsibility, and none could have planned for a pandemic.
Two seasons ago, game-day revenues alone were around $910 million, also according to Deloitte, and they have almost completely disappeared. Although that represents only around 13% of the league's income, player salaries are a growing financial black hole, with teams spending 61% of their total revenues on wages. Game-changing soccer players are rare—the best can almost write their own checks, and usually have cast-iron contracts.
Unfortunately, the same does not apply to ordinary staff members. Within weeks of north London team Arsenal signing the Brazilian star Willian in August, at a reported cost of $300,000 per month over the duration of a three-year contract, the organization laid off 55 lower-level employees because of the reduction in overall revenue, despite other players taking a pay cut. Another star player at Arsenal, Germany's Mesut Özil (who earns even more than Willian, but doesn't play at all because of an ongoing dispute with management), offered to pay the wages of the laid-off Gunnersaurus, the team's dinosaur-costumed mascot.
In a global health emergency, there is the savage irony that the general loss of sporting facilities, such as pools, gyms, and yoga studios, as well as the removal of many participation events, like marathons, has had a damaging impact on the overall health and fitness—both physical and mental—of millions of people. "People miss the social interactions of team sports," says Jamie Lea, owner of West London Fitness, a personal training company in the UK. "They get tremendous benefits from exercise generally, with the serotonin and endorphins the body naturally produces during a good workout. But there's also tension release, stress release, and it helps people sleep better."
The routine of consistent, regular exercise in a community atmosphere is difficult to replicate online for some people. Just a few weeks of the lower activity that is a feature of lockdown can set them back a great deal, with an additional impact on energy levels, motivation, and professional productivity. "People can very quickly deteriorate," Lea adds.

Project Restart
In June, after several months of inactivity, with players training alone at home, fans bored out of their minds, and a half-finished season eating away at the very idea of sporting integrity, the EPL embarked upon "Project Restart." With a strict testing and quarantine regime for players—and, it has to be said, significant pressure from the TV companies to supply a product for which they'd paid billions—the season resumed, three months after its abrupt suspension.
It was a complex logistical challenge, with a largely successful outcome, barring the occasional glitch. The remaining games of the season were scheduled in a tight squeeze from June 17 to July 26, and each home team played in its own stadium, which meant that they had to travel across the country, using disinfected vehicles, and staying in Covid-secure hotels, to fulfill their obligations. Players were tested frequently, but were not kept in secure bubbles. Instead, they mostly stayed at home with their families, with the understanding that they would abide by strict rules and not take risks. Inevitably, a few slipped up and tested positive for Covid-19, but there were no mass outbreaks and no serious illnesses.
By contrast, the National Basketball Association (NBA) in the US, which also successfully completed its season and eventually crowned the Los Angeles Lakers as champions, had a very different model. NBA players completed the playoffs and finals in secure, separate bubbles at several hotels at Disney World over nearly two months. As in the EPL, there were similarly intense testing procedures. Not a single player tested positive within the bubble.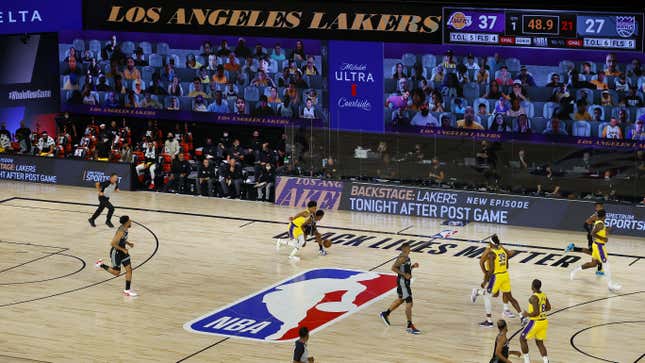 There are, of course, substantial practical differences between the two sports. Basketball is played in indoor arenas, on a smaller surface, with closer contact between players. The distances normally traveled between games are far greater. It's just 350 miles from Bournemouth to Newcastle, the cities furthest away from each in last season's EPL schedule—compare that to the 3,200-mile trek from, say, Portland to Miami.
Major League Baseball took the EPL approach, and while a lot of players tested positive and games were canceled, they managed to play a 60-game season and end with a successful World Series, won by the LA Dodgers. Major League Soccer took a similar approach to the NBA. With the 2020 season interrupted, the league created a one-off tournament, also housed in a secure bubble in a Disney resort, to supplement the eventual resumption of the regular season.
"You can either run and hide in a corner during a storm or you can stare into the storm," says Goodman of NYCFC. "Do you want to be in the positive or the negative when you come out?" The MLS team is the five-year-old US franchise of the City Football Group (CFG), a global soccer empire. It was formed in 2008, when an Abu Dhabi-based private equity company acquired the EPL's Manchester City, a perennially unsuccessful team that's now among the best in the world. CFG's pockets are deeper than most.
"The pandemic gave us a lot of a lot of time to think, and a lot of time to plan," says Goodman. "It's going to end at some point. There will be some level of normality, eventually. From a CFG perspective, we're looking at the next four or five years." Until this year, CFG also owned teams in Australia, India, Japan, Spain, Uruguay, and China, and as Goodman says, increased its investment during the pandemic with the purchases of more teams in Belgium and France.

The future
The last time there was a large-scale interruption to sporting activity in England was when the government suspended games in 1939, at the outbreak of World War II. Back then, there was no TV money, no sponsorship and endorsement deals, and soccer teams' incomes depended entirely on the money they pulled in on game day. The ban lasted two weeks.
The British government allowed soccer to resume, with restrictions on crowds, and on the condition that it didn't get in the way of national service and industry, says the Imperial War Museum website. Despite the risk of aerial bombardments and the conscription of thousands of men to fight, English soccer "remained a popular spectator sport on the home front."
Most countries today have not shown the capacity or competence to test, trace, isolate, and support infected citizens to a standard that ensures no risk of further transmission. But elite sport has shown how it can be done in certain settings, with relatively few mishaps (largely caused by a small number of players either not observing, or not being able to observe, the protocols). In many ways, the return of sports has been highly successful.
That said, the return to anything close to the human contact we once took for granted depends entirely on the successful creation and deployment of a vaccine at a scale and speed that's never even been attempted before. The UK may be at forefront here, having already approved a vaccine jointly developed by Pfizer and BioNTech. There are several more promising candidates that have entered late-stage testing and applied for approval from regulatory bodies, at record pace.
There are two huge sporting events next year, and both are approaching faster than we think. The Olympic Games in Tokyo, postponed from July and August of this year for obvious reasons, are now scheduled to take place across the same dates in 2021. Games organizers and the Japanese government have said they will cancel rather than postpone again, if they cannot guarantee the health and safety of athletes. Soccer's European Championship, in which national teams were also scheduled to criss-cross the continent during its summer, is also happening next year. There are billions of dollars at stake.
In the grand scheme of things, the modern-day return of sports and lower-level sporting activity, like the return of everything else, is imprecise. Sports are not on an island. Their problems and challenges are, to a large extent, the same as the rest of society's. But their innovations and successful practices—with testing, forward planning, and so on—are useful for everyone to follow.
In Liverpool—but also in other major European soccer cities like Glasgow, Dortmund, and Rotterdam—most of the stadium sings "You'll Never Walk Alone", a Rodgers and Hammerstein classic from the musical Oklahoma, before every game and after every victory. Its lyrics are about overcoming adversity, and could easily describe the collective battle against a new killer disease. "When you walk through a storm, hold your head up high," it begins. That is what sports have done, and it is what the rest of us must do.
Update: In a an earlier version of the this piece, we said the Kop will be empty for Liverpool vs Wolves. The club subsequently allowed fans into that section.