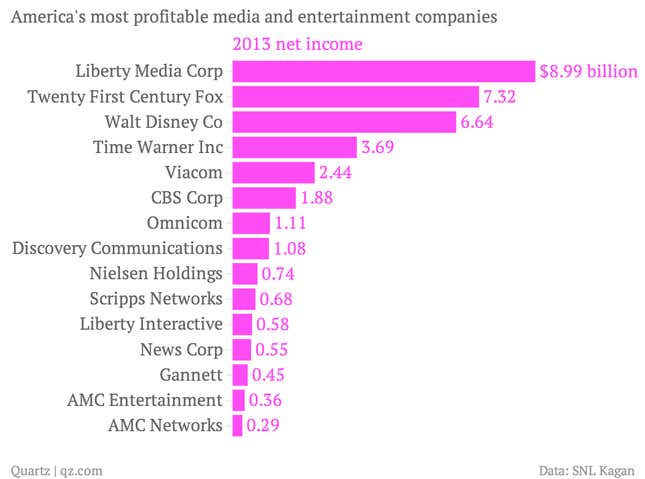 The above chart comes from data released by SNL Kagan earlier this month. It highlights the fact that, despite all of the ink spilt in recent years bemoaning the internet driven demise of traditional media, such businesses remain very, very profitable.
The most profitable "old media" business in America last year was John Malone's Liberty Media, which among other assets, owns the Atlanta Braves major league baseball franchise; 26% of America's fourth-largest cable provider, Charter Communications; and 27% of concert promoter Live Nation. (Although it's worth pointing out the company enjoyed a one-off accounting gain worth $7.5 billion, after it changed the way it treats an investment in satellite radio operator Sirius XM on its books).
There's a common thread between the rest of the top five (and at least half of the list): they produce and sell television shows and/or movies. 21st Century Fox is the company behind the eponymous network, cable channels (like Fox News) and Hollywood film studios; Disney makes nearly half of its revenue out of its media networks division, which includes the juggernaut that is ESPN;  Time Warner owns HBO and CNN among other businesses ; Viacom is the company behind MTV, Nickelodeon and the Paramount line of film studios.
It is also worth pointing out that Google, by many definitions a media business (it makes most of its money out of search advertising) is more profitable than any company on the list. But among internet media  (or so-called "new media") businesses, it's the glaring exception.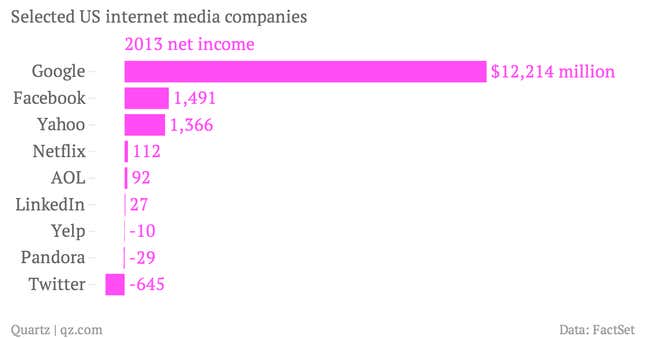 All the same, internet companies like Facebook (net income was up 4,600% in 2013) and Netflix (up 555%) are growing at a rapid pace. So it might not be that long before they are among the biggest media businesses—however you choose to define one—as well.