A shortage of airline pilots is threatening China's hopes of building a world-class commercial aviation industry. According to data released this week, the number of pilots in the country rose 13% last year, but China still faces a potential shortfall of about 1,000 pilots a year. Analysts estimate the expanding air travel industry will need 3,000 pilots a year as air travel expands, but schools are so far producing only about 2,000.
China's airline industry is already facing some turbulence. Flight delays are so common that passenger outrage has turned into riots at airports several times over the last few years. The country's quickly expanding high-speed rail system is also threatening airline profitability.
To help alleviate a pilot shortage that could limit growth, Chinese carriers have taken to recruiting experienced foreign pilots, especially those from South America, the US, and other developed markets with the promise of higher salaries. Shenzhen Airlines recently advertised salaries for a captain of up to $212,400.
Today, China employs more than 800 foreign pilots, out of 18,400 commercial pilots. About a third of all recruitment ads for captains on the careers website of Flightglobal, an industry publication, are for Chinese airlines.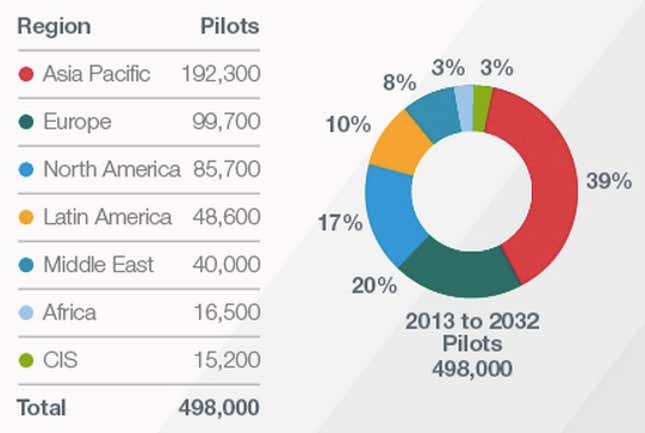 Pilot shortages have been a problem all over the region—according to estimates by Boeing, the world will need about half a million new commercial airline pilots over the next two decades and Asia accounts for a little over a third of that demand. But because of China's aggressive recruiting, smaller airlines elsewhere in Asia are having trouble attracting pilots. Southeast Asian airlines typically pay foreign captains about half (paywall) of what Chinese airlines typically offer.