It costs twice as much to live in London as the rest of the UK, according to new data on property prices (pdf). The typical London home is now worth nearly £363,000 ($604,000), versus the £180,000 national average. London's property market long ago detached from the rest of the UK, but the latest numbers crossed an important psychological barrier.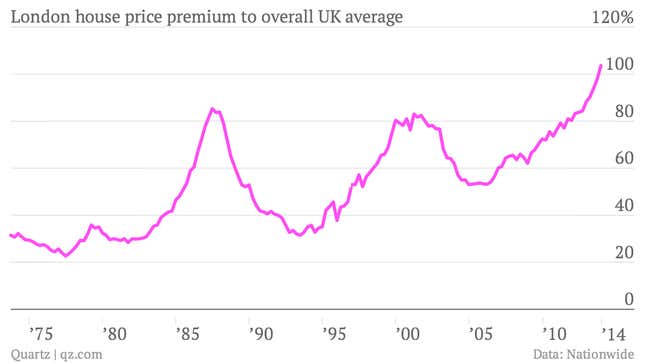 The average London house is now worth 20% more than its 2007 peak, while the UK as a whole has yet to surpass its pre-crisis apex. In the first quarter of this year, the rise in London home prices accelerated to a heady 18% annual rate, roughly double the national average.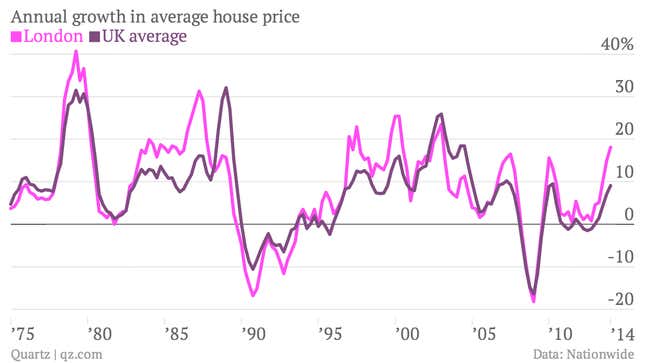 How much longer can London keep this up? For a first-time buyer, the average home now costs eight times gross earnings, the highest ratio since at least 1983, according to data from the mortgage lender Nationwide. The government recently extended its program to subsidize mortgages for first-time buyers and newly built properties, hoping to limit further price inflation by spurring more construction.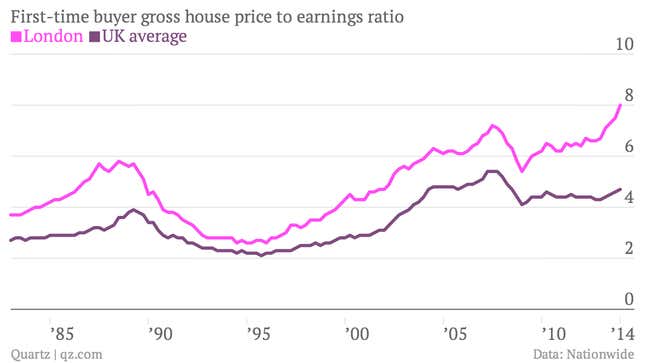 Although homebuilding is indeed picking up, the number of new homes being built in England is still 40% below pre-crisis levels, according to Nationwide. In a new report (pdf), the real estate broker JLL says that developers currently have 20,700 units under construction in London, up sharply from recent years but well short of the 42,000 new units per year that experts think is the minimum required to meet demand from people flocking to Britain's booming capital.
Development in and around London is never an easy proposition. To get around the UK's famously strict planning regulations, particularly in the "green belt" that encircles the capital, London mayor Boris Johnson wants to sell off public lands to private developers. The mayor has met opposition on many fronts, from those who see the plan as an ego-boosting vanity project to those, like Prince Charles, who think that the skyscrapers poised to pierce London's low-rise skyline ruin the city's "vitality and vibrancy."
The nature of many new developments also suggests that affordability is not necessarily on developers' minds. JLL notes that builders are particularly busy in the financial district of Canary Wharf, where sales of apartments have quintupled over the past two years. These developments, including a 75-story luxury tower recently bought by Chinese developers, probably appeal to the sorts of buyers under fire in other London boroughs for treating London flats as a convenient place to park their cash instead of somewhere to actually live.
The net result is that the supply of new housing in London is unlikely to meet demand for some time. For investors, London's property market will "thrive" (ie, prices will continue to soar) for at least the next three to five years, says JLL. "The undersupply dynamic will not die away," it says.
For people who actually live in the city—and don't own their home—the rising cost of living may push them to think the unthinkable: leave London. Property prices in Manchester rose as fast as in London in the latest quarter, but even after that increase, you can still buy two Manchester homes for the price of one in the capital.