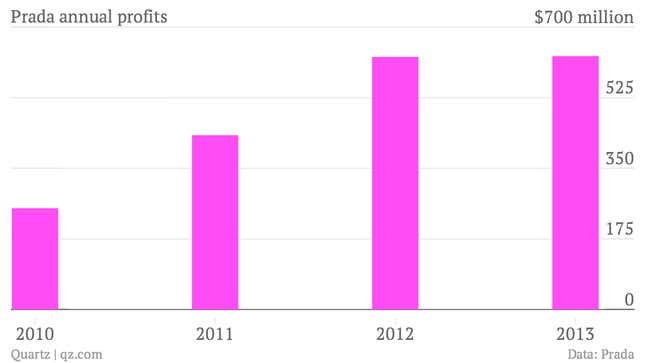 The numbers: Prada's net profits grew by 0.3% to €627.8 million ($866.01 million) in the year ended Jan. 31, missing most analyst estimates. The relatively flat earnings looked particularly anemic compared to 2012, when Prada's annual earnings surged by 45%.
The takeaway: Luxury retailers overall have been hit by weak spending in Europe and China's ongoing crackdown on conspicuous consumption by officials. According to the consultancy Bain, the luxury retail industry grew by only 2% last year, its weakest expansion in four years. Prada's sales grew just 5% in Italy and 7% in Europe, two of its main markets. Prada's results may not come as a surprise to the company, which predicted its rate of growth in same-store sales in 2014 would be a "low single-digit."
What's interesting: One area for potential growth for Prada is the Middle East, where sales grew 111% to €91.1 million last year. The company has only eight directly owned stores there, after launching an expansion into the region in 2011.