Climate tech is driving the global transition toward clean energy, while the oil industry struggles to find its footing in a changing world. Oil prices took a nosedive during the peak of the pandemic, sending another warning that the industry's standing on shaky legs.
This week's presentation for Quartz members explores the current landscape of the fossil fuel industry, the world's slow but accelerating shift towards clean energy, and the companies and investors that are betting on climate technology.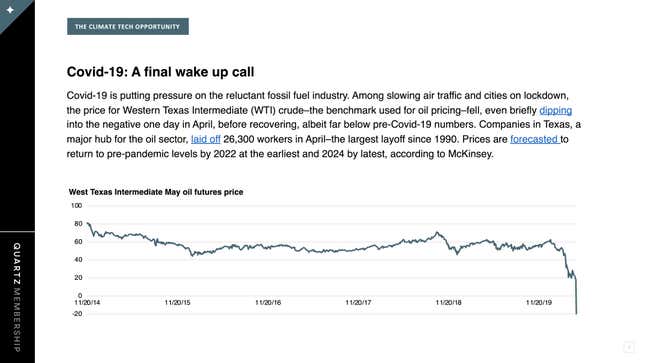 Covid-19 hit the fossil fuel industry with another wake-up call. Lower energy demand due to city lockdowns and canceled flights caused oil prices to dip to shattering lows. With the pandemic radically changing lifestyles, business models, and office culture,  prices are forecasted to return to pre-pandemic levels around 2024, if at all, according to McKinsey.
Coal isn't faring any better. Global coal-generated power capacity shrank during the first half of 2020. Additionally, governments' climate change policies are forcing oil companies to reinvent themselves in order to stay financially and environmentally relevant. So far, they've responded with a plan to spend $18 billion on renewable energy by 2025.
As Big Oil contends with its changing identity, the movement to "decarbonize everything" continues to grow. Startup founders are galvanizing around what they believe to be the biggest opportunity of this generation: climate tech. It's an expansive category that includes technologies as varied as reforestation drones, more energy efficient algorithms, and electric airplanes. Silicon Valley has taken notice. Nearly six cents of every dollar went to a climate tech startup in 2019, according to PWC. Policymakers have also taken an interest, further buoying the movement. Presently, 120 countries have pledged to eliminate carbon emissions by 2050, and more than 300 corporations have committed to carbon neutrality by 2050 according to Science-Based Targets, a nonprofit that tracks emission goals.
Despite enthusiasm from climate-tech founders, venture capitalists are still on the fence.  Unlike the software startups that can reach unicorn status seemingly overnight, financing climate technology is a marathon that demands a more robust financing ecosystem. But that ecosystem is growing and today includes more than 1,200 companies and 2,500 active investors according to PWC.
Keep scrolling to see all of the slides in our climate tech presentation. Or, if you'd prefer, you can view the PDF version or download the PowerPoint file, which includes our sources and notes. This is one of an ongoing series of member-exclusive presentations, which you can read, reformat, and use as you wish.
Please share any feedback about what would make these presentations more useful—or topics you'd like to see us cover—by emailing us at members@qz.com. These presentations are an exclusive benefit for Quartz members. We'd love it if you'd encourage any friends or colleagues who express interest to become a member so they can access them too.