Indonesia has been described as the next frontier for online retail. Industry observers say the country's millions of new internet and smartphone users make it ripe for a "big bang" (paywall) in e-commerce. As a result, e-retail firms from eBay to Rakuten are fighting for a foothold in the market, but there are a few traits that make Indonesia's e-commerce market both fascinating and extremely difficult.
There are millions of internet users but not as many internet addicts
Indonesia, the world's fourth most populous country, is currently the last of Asia's top five e-commerce markets by sales. But sales are forecast to nearly triple by 2016 as internet and smartphone penetration rises. The country's population of internet users grew to 74.6 million last year and should almost double to 125 million by 2017. According to a new survey of 1,300 Indonesians by Google, half of respondents who don't currently shop online said they would probably make an online purchase over the next year.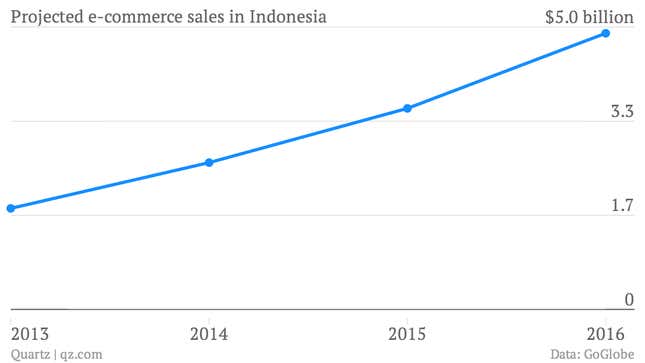 But less than half of Indonesia's internet users spend three hours or more online each day, or enough to place them in the unofficial "netizen" category of those who are very active online and form an important segment of online shoppers, according to the market research company Markplus Insight. In Vietnam, a smaller e-commerce market, some 62% of internet users spend an average of three hours or more surfing the web a day. And average time spent online among China's 618 million internet users is already 3.6 hours.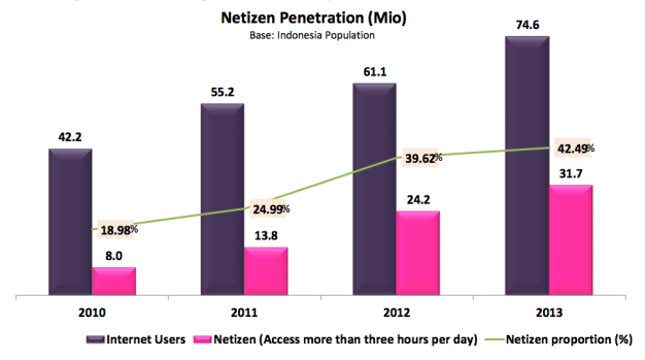 Online shopping is reserved for the office, not the home
According to Rio Inaba, chief executive of Rakuten's Indonesia branch, the peak time for online shopping is 11am (paywall), with traffic rising again in the early afternoon after workers have returned to their desks from lunch. This isn't because shoppers are so eager to get the latest deals that they shop while on the job; home internet connectivity is low because fixed-line internet access is slow and expensive. Until home internet improves enough for people to browse during their off-hours, there may be an upper limit on how much Indonesians will shop online.
People prefer Blackberry Messenger and classifieds over eBay.com
Indonesian netizens tend to make online purchases through Blackberry Messenger groups, classifieds, forums, and  social media platforms like Facebook where they can interact with sellers. Only 20% of Indonesian netizens say they prefer shopping on traditional online shopping websites. This means that e-commerce giants such as eBay, Rakuten, and Sukamart—who drive e-commerce in much of the world—will have to adjust their traditional strategies in Indonesia.
It's hard to pay for goods, and to get them delivered
Indonesia's poor transportation infrastructure is one reason that e-commerce here has potential: urbanites can avoid traffic and those in remote areas can still shop. But poor roads, a lack of detailed maps, and unclear addresses also mean that shipping goods is challenging. Payment is another obstacle. For instance, the website Tiket.com, a travel website, has to offer 14 different means of making payment. Many online retailers require that customers go to an ATM to transfer cash to the seller before goods can be delivered. That makes online shopping only slightly more convenient than just going to a traditional  brick and mortar store.