VARANASI, India—This is one of the most spiritual cities in the world, but its modern identity is as the contentious battleground of India's elections. Arvind Kejriwal, leader of the Aam Aadmi Party (AAP), the common man's party, is challenging Narendra Modi, the prime ministerial candidate of the Bhartiya Janata Party (BJP).
And so in this ancient place, it is the young who matter more than ever. About half of India's population is projected to skew under age 25 by 2020. First-time voters are likely to number around 160 million in May—two out of every 10 registered.
Last week, I sat down with a few of them on banks of the Ganges river at sunset. They were seven students from the Banaras Hindu University, one of India's most prestigious educational institutions, established in 1916.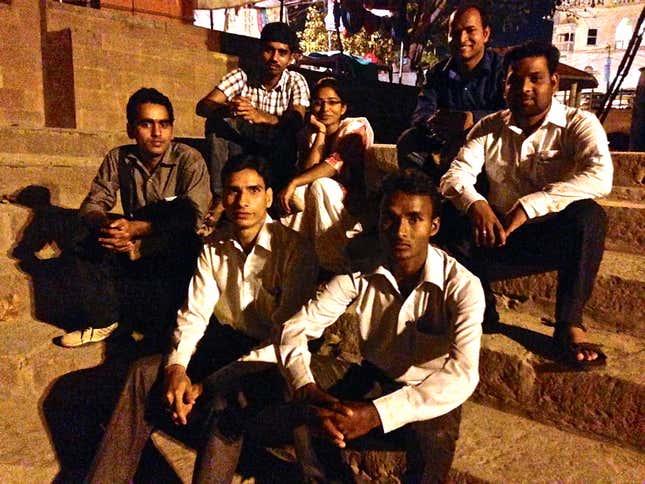 They all agreed that they were turned off by voting blocs driven by caste and religion, still entrenched in the politics of the world's largest democracy of 1.2 billion people. Speaking in Hindi, they ticked off the problems that they want solved by the next rounds of leaders. Edited translations:
Arvind Kumar Mishra, 24, political science PhD student, Aam Aadmi Party supporter.
"We don't have a just or a safe society for women. A lot of gender violence is being perpetrated on women. They are not getting political power so that they can play their role in the development of the country on an equal footing as men."
Priyanka Singh, 25, a political science student, was the only female in the group. She will vote "none of the above," an option available for the first time in the national elections.
"We need to battle corruption everyday. Corruption isn't just about money, there is also the powerful people one knows, who can get your job done. I have experienced the pain of losing out in an interview because someone else had a better connection."
Manoj Kumar Verma, 27, sociology PhD student, Aam Aadmi Party supporter.
"We need to end dynastic and family politics. I support AAP because it has once again restored meaning to democracy and elections, otherwise it was the same family or a group of leaders and criminals retaining power. Politics should now be crime, caste, and religion free. We should vote as Indians."
Anand Kumar Maurya, 22, political science student, Bahujan Samaj Party supporter.
"We need to create opportunities for the backward castes. I honestly don't want caste to be a divisive force in our country, but there is a need to continue economically empowering those who have been discriminated against for a long time. If they don't catch up then India cannot progress."
Ram Pandey, 24, a philosophy student, Congress Party supporter.
"Sanitation should be a top priority. Go look at the streets of Varanasi. There is rubbish everywhere. This is called a scared city of learning, but everywhere people are using the outside as their toilet. Politicians don't care a bit. A plan to clean Mother Ganga (the Ganges river) should be put into force immediately."
Prashant Kumar Ojha, 24, a student of Sanskrit, Aam Aadmi Party supporter.
"The quality of education is declining everyday at all levels. The situation in the smaller towns is bad. There are no teachers and no infrastructure in government-run schools and colleges."
Ramachandra Bhan Singh, 24, a political science student, impressed by Modi's approach to development, remains undecided. 
"Modi has shown creativity and energy in his development work. Even look at his campaign advertising, which are smaller ads but create more impact than the Congress ads, which don't hold your attention. Modi's model is low on capital but high on impact."
Singh, who used to be a fan of Kejriwal, noted: "We're all obsessed with the politicians and not their policies."
We welcome your comments at ideas@qz.com.