Much of the world welcomes workers in wacky socks.
Socks—and their cousins, tights or artsy hose—give professionals a place to be playful, creative, a little offbeat, even when our bosses may be more buttoned-down than brilliant hues. And unlike some more visible displays of individuality such as tattoos, hats or scarves, crazy socks easily tuck under conference tables or desks if  the wearer cannot take a chance at turning off a client or senior executive.
Some wear the colors of their alma mater, others choose a single bright tone. Others pick and choose an array of animals or colors based on their mood, the season—or the clients they will meet that day.
So go ahead and pair the purple fishnets with a polished navy suit, as fashion blogger Kat Griffin once did, or pair your black fashion suit with some lime-green socks.
Colorful or character socks show playfulness and make a great icebreaker or way to connect with others, says Lauren Rothman,  a stylist and author of Style Bible: What to Wear to Work. She thinks the trend may have started in Silicon Valley. "Folks are showing their power, their bravado in the boardroom. The louder the socks, the bigger the wallet."
Serious people and politicians don funky footwear.  For former US president George H.W. Bush's birthday last year, several political pals pulled some on.  So do tech types at Twitter and Giga Omni Media, where the colorful geometric patterned socks serve as "this universal sign, almost like a gang sign," Hunter Walk, a YouTube director, told the New York Times.
Another possible advantage of wearing fanciful socks and other unexpected attire: You build a brand as "the gutsy guy" or a creative type and over time, it may give you more room to bend or break rules, Neil Tambe, an MBA student and former management consultant, writes in his Civic Yuppie blog.
Warning: Not every boss will embrace your creative accessories. Some Wall Street types have even been taken aside and chastised for wearing argyles.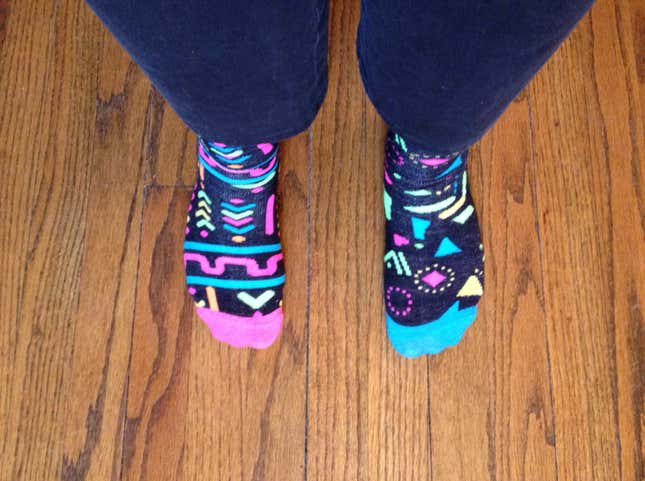 Still, socks have become a stretch-yourself statement for companies and individuals. When Evernote launched its business note-taking app, its team also decided to exercise its design muscles to create striped socks, which are sold alongside a Jot Script.   And Mad Men costume designer Janie Bryant will bring out a line of fashion hosiery this fall, and shows some of her patterned preferences in a Pinterest board.
Rothman, the stylist and author, thinks women may best  show their personality with jewelry, "a really fun statement necklace from Zara" or a vintage pin from a flea market. Just don't go for studded jewelry though it is popular. "You still need to keep a professional tone" even as you pop out your personality, she notes.