In his 2019 essay on The Healing Power of Gardens, the late neurologist Oliver Sacks tried to grasp the mysterious curative effects of nature on the human body.
"I cannot say exactly how nature exerts its calming and organizing effects on our brains," Sacks writes, "but I have seen in my patients the restorative and healing powers of nature and gardens, even for those who are deeply disabled neurologically. In many cases, gardens and nature are more powerful than any medication," he observes. "Clearly, nature calls to something very deep in us."
Few would argue against the idea that gardens are good for our health and well-being, even if, like Sacks, we don't know exactly why, or how. So it comes as no surprise that Covid-19 has inspired a revival in gardening, with many people working out their anxieties in backyard plots, potted plants, or herb-lined window sills. Confined to our homes with limited avenues to connect with others, seeing something blossom in our immediate surroundings is one form of home improvement guaranteed to provide a measure of happiness.
This urge was reflected in this year's London Design Biennial, which featured a gallery of biophilic solutions for city dwellers. One intriguing concept from Spain proposed attaching barnacle-like "pop-up ecosystems" on the side of tall buildings to improve the mental health of occupants. And during a year when air quality was a top concern, The Sill, a house plant startup with the tagline "plants make people happy," was quick to highlight the benefits of having air-filtering plants like philodendrons, snake plants, and bird's nest ferns in our homes.
The task of documenting medical evidence about nature's effect on the human body began in earnest in the 1980s, with architecture professor Robert Ulrich's landmark study about how patients who underwent gallbladder surgery recovered much faster if they had a view of trees, compared to those whose rooms faced a brick wall. Studying a decade's worth of medical records from a suburban Philadelphia hospital, he also observed that exposure to greenery resulted in less calls to nurse and fewer requests for high-dose pain killers.
British landscape architect Clare Cooper Marcus expanded on Ulrich's investigation and conducted the first post-occupancy evaluations of hospital gardens. Working with researcher Marni Barnes, she interviewed hundreds of patients and hospital staff to come up with evidence-based recommendations for designing therapeutic gardens. Her 2013 book, Therapeutic Landscapes, is a bible for hospitals seeking to create or justify the need for greenery in their campuses.
Beyond the abstract, flowery language so common in landscape design, Marcus believes that using empirical data is essential if gardens are to be used as instruments of healing.

A garden for every ailment
In Therapeutic Landscapes, Marcus and co-author Naomi Sachs outline how garden design can help with different ailments.
For instance, gardens with shady areas can help cancer patients stay out of the sun, which is crucial given how sensitive their skin becomes from chemotherapy and radiation. Choosing plants that offer privacy and creating winding paths that conjure the feeling of escaping the clinical setting are ideal. In an interview with the American Society of Landscape Architects in 2018, Marcus spoke about the comfort of being in a garden after she was diagnosed with cancer shortly after retiring from Berkeley University:
I was treated at the Kaiser Permanente Walnut Creek Medical Center where there is a green space in the center with three ancient 150-year-old Valley Oak trees protected by law. That became an oasis for me during treatment. When people came to visit me, we would walk through the green space on balmy evenings in the summer. It was doubly important to me to have green space when dealing with the stress of a life-threatening illness. It had a very personal meaning.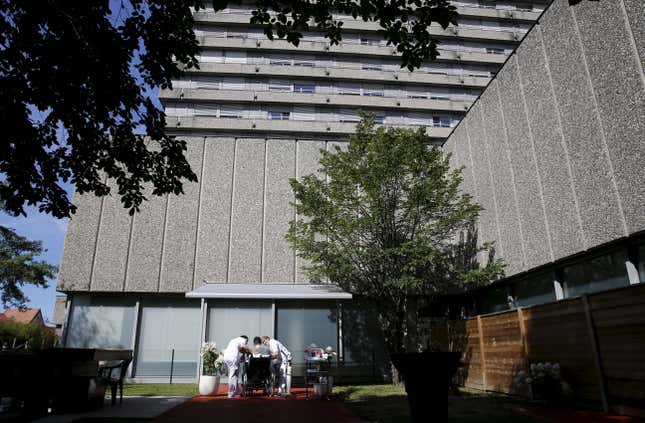 Gardens for frail seniors, on the other hand, should be simple and abundant with daylight. Exposure to the sun can help fortify weakened bones and promote better sleep. Marcus says that gardens in assisted-living facilities should aim for a home-like quality in terms of scale and character. They should have an easy-to-navigate layout and include scenic places for rest, like a gazebo or a pavilion.
In designing green spaces for people with dementia or other neurological disorders, gardens should be clearly visible from indoors. Observing the changes in greenery can offer them clues about the time of day, the season, or their location. And depending on the individual's history, introducing familiar features like flowers, a flagpole, a statue, or a barbecue pit can serve as memory aids or "reminiscence therapy."
Planting scented herbs and flowers are great for hospice facilities, explains Marcus. Since smell is one of the last senses to leave before death, it is appropriate to include fragrant plants such as lavender and rosemary, and fragrant climbers such as jasmine, clematis, and wisteria—especially near the windows of patient rooms," she writes in Therapeutic Landscapes. "The inclusion of aromatic herbs such as sage, thyme, and lemon balm along pathways invites those in the garden to pick and smell them." She warns against annuals, which need to be taken away when they decay after one season.
After studying thousands of cases, Marcus believes that a garden's healing power rests in its ability to calm frayed nerves. "In a hospital setting, most people are stressed, to some degree. These could be outpatients waiting for a prognosis, visitors waiting for a loved one in surgery, nursing staff experiencing burnout on a break from work," she explains to Quartz. "The evidence suggests that moving from a stressful environment into a natural or semi-natural outdoor space can help lower blood pressure and reduce stress hormones."

Covid home gardening and hope for black thumbs
Marcus says that those who feel anxious about being marooned indoors during the pandemic might benefit from connecting with the soil, whether it's in a garden bed, nearby park, or apartment pot plant. "Feeling the sun, breathing fresh air, maybe hearing birdsong, and surrounded by a variety of shades of green—all of these can add up to a stress-reducing experience similar to that experienced by people in a hospital setting," she explains.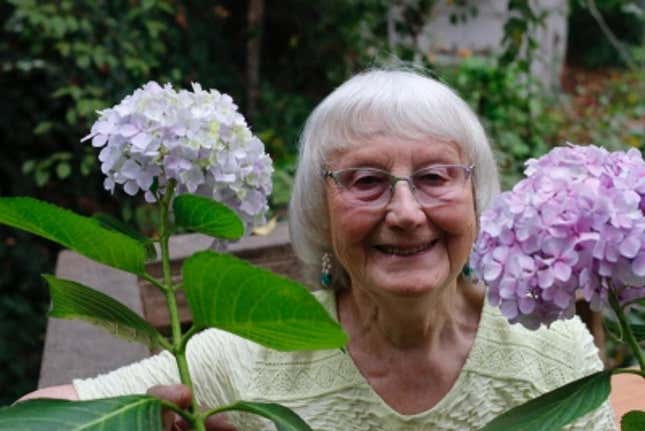 For those thinking about starting a home garden, Marcus recommends choosing plants that appeal to our five senses. "There are things you want to smell, maybe plant leaves that you want to touch, things to pick and eat, things to listen to," she says. "There should also ideally be a variety of places to sit in the sun or in the shade, depending on the time of day and the season." As a general rule, one should allocate 70% of the space for greenery and the rest for hard surfaces like a path or a patio.
Unless you're into competitive gardening, there's no need to fret about growing prize-winning petunias, perfect lawns, or gigantic vegetables. "Regardless of whether a garden might garner praise in professional design journals as 'good' design, the environment will qualify as bad or failed design in healthcare terms if it is found to produce negative reactions," writes Ulrich in Healing Gardens. Ultimately, it's less about how a garden looks and more about how it makes you feel.
Even those who believe that they're cursed with a black thumb can get something to grow, assures Marcus. "Planting radishes is a good start as they germinate quickly and offer something to munch on. Buying herb plants from a nursery—parsley, basil, oregano—then all you have to do is keep them watered, and you can clip off sprigs to use in cooking," she suggests. "Marigold or nasturtium seeds are very easy to germinate and you will quickly have flowers. Depending on the climatic region where a person lives, buying bulbs at a plant nursery, putting them in a pot, watching them come up, and then flower can be a very appealing experience."
Heeding the science of therapeutic gardens, we might glimpse what the 12th century Benedictine mystic Hildegard von Bingen called viriditas, a "greening" regenerative force that can mend the mind, body, and soul.