As voting kicks off in India, the reported front-runner Bharatiya Janata Party has released its policy "manifesto," laying out how the BJP would try to reboot India's stalled economy and help the country to recover what the party calls its "innate vitality." While scant on specifics and long on content-free declarations like "We have to encourage our industry to innovate and collaborate internationally," the 52-page document did provide some clues into which companies and industries might benefit if the BJP, as expected, gains the most seats in this election.
Winners:
The BJP is open to foreign direct investment (page 35), on a limited basis. "FDI will be allowed in sectors wherever needed for job and asset creation, infrastructure and acquisition of niche technology and specialized expertise," the manifesto said, a definition that would seem to favor specialist companies that don't have an Indian equivalent, like:
Bombardier or Siemens: The BJP has pledged to build a "Diamond Quadrilateral" high speed rail line which would connect India's four largest cities. Bombardier already has a factory in party leader Narendra Modi's home state of Gujarat and a thriving high speed rail business. Siemens made the Gurgaon to Delhi rail line. The opposition Congress party has also been exploring high-speed rail, and has proposed north and south corridors.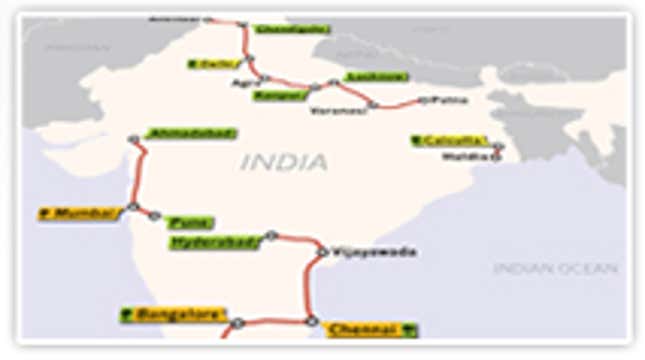 Food-processing and manufacturing companies. The BJP hopes to set up " 'agro food processing clusters', with high value, export-quality and vacuum packed food processing facilities," the manifesto says. It also promises to grow India's nascent manufacturing sector, vowing to "make India a hub for cost-competitive labour-intensive mass manufacturing."
Losers:
Walmart:  There is one named exception to the BJP's pro-foreign direct investment stance: "the multi-brand retail sector," or stores that sell many different brands under one roof. That would reverse a decision by the current Congress Party-led government to allow multi-brand foreign retailers into the country. Walmart is reportedly investing 13 billion rupees ($214 million) in its India business, much of that for online sales. The BJP manifesto doesn't specifically mention how it will handle e-commerce, and India's growing online sales are sure to draw attention.
Seed makers like Monsanto and DuPont: "Genetically Modified (GM) foods will not be allowed without full scientific evaluation on its long-term effects on soil, production and biological impact on consumers," the BJP states.
Nuclear experts like GE: The US-India nuclear pact, a hallmark of the outgoing Manmohan Singh-led government, failed to create a massive new market for power plant companies in India, and the BJP promises even less bilateral cooperation. "We will follow a two-pronged independent nuclear programme, unencumbered by foreign pressure and influence, for civilian and military purposes, especially as nuclear power is a major contributor to India's energy sector," the manifesto says.
Overall, the BJP's manifesto says it was written to address a "multi-dimensional crisis….which has encompassed walks of life" thanks to the current Congress Party-led United Progressive Alliance government, and calls it a "Decade of Decay." India's economy has slowed in recent years as foreign investment dropped and decision-making in Parliament ground to a halt, but it has shown more growth, based on GDP and the stock market, than the last time the BJP-led National Democratic Alliance (NDA), led the country, a recent research paper shows.