On previous Lunar New Year holidays, Gelato Fu could be found lying on a beach in Bali, or exploring the Chinatowns of cities like Los Angeles. But this year, just like last year, Covid-19 has forced the 34-year-old accountant to spend the festival in her hometown—the southwestern Chinese city of Chongqing. "I was on a plane bound for Los Angeles on the eve of the festival in 2015. This year, I could only take my young daughter to see monkeys in a zoo in Chongqing," she told Quartz.
Most people in China are in the same boat as Fu.
The Covid-19 outbreak thwarted travel during last year's Lunar New Year holiday. While the country seemingly recovered quickly from the pandemic, international travel remains out of the question for most. And domestic travel in China, which had returned somewhat in recent months, is now restricted following a resurgence of cases in northern Chinese cities.
Beijing has required migrant workers wishing to travel back to their hometown to provide a negative Covid-19 test to local authorities in order to leave the city. Officials have also urged residents (link in Chinese) to "celebrate the new year where they are." Those who manage to make it home likely face a two-week quarantine, depending on local rules. Covid-19 has once again dashed the hopes of many wishing to celebrate this year's Lunar New Year with family in February.
China's reimposed travel restrictions are prompting more people like Fu to travel like a tourist wherever they find themselves, leading to a rise in "nearcations" and weekend trips. Local authorities and travel agencies are making the most of the opportunity.

Shifted interest
Curious travelers like Fu have been a major pillar of the global tourism industry for decades.
Visitors from China spent close to a combined $135 billion in countries such as Thailand, Vietnam, and the US in 2019, according to a report (some links in Chinese) released by the China Tourism Academy, a state-backed research institute. The number of Chinese tourists opting to go abroad during the Lunar New Year has also steadily increased, from around 5.2 million in 2015 to over 6.3 million in 2019, according to China's tourism bureau.
With outbound travel off-limits since the outbreak, the desire for travel was redirected to local trips, leading parts of the sector to bounce back quickly before the recent wave of new cases. Trip.com Group, China's largest online booking service provider (its platforms include Qunar.com and Skyscanner), reported substantial increases in revenue from accommodation bookings and transportation ticketing in the third quarter compared to the previous quarter. More than half of the rooms added to the Marriott system globally in the same quarter were also in the Asia Pacific region, with the "vast majority" of the deals taking place in China, an indicator of where the hotel expects to see the most future growth.
The China Tourism Academy expects that some of the high-end domestic destinations that target travelers now will remain attractive to locals even as overseas destinations start to open up. It believes visitors will be pickier about international trips once they experience high-quality service at home.

Red tourism
Indeed, local bodies are taking advantage of international travel restrictions to promote domestic destinations. The government has pushed cities like Hainan, dubbed China's Hawaii, to open more duty-free shopping malls and increase the value of goods visitors can buy from the shops. Efforts like these have helped to divert the buying power of China's rich back home. Hainan saw its sales of duty-free goods surge over 200% in the third quarter compared to the same period a year ago.
China has also been trialing shorter working weeks in some places to allow people more time to travel locally, in an effort to revive the local economy.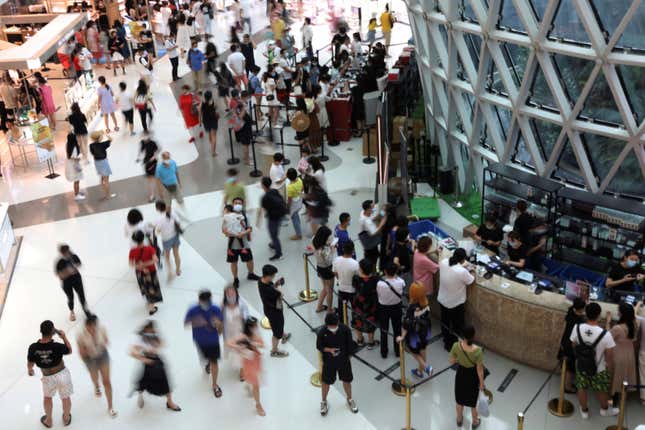 Travel agencies have been promoting local destinations for citizens, including patriotic routes that trace the history of the Communist party and some of its most prominent figures. One such route by major travel agency Spring International Travel Service, based in Shanghai, is named "patriotism around us" (link in Chinese) and is tailored for students who can't go back home this winter due to the outbreak. A tour guide takes participants on "a wander around in the city" to learn about communist "revolutionary figures, and the achievements of China's market reform policies," according to the company.
Destinations such as the Zaoyuan Revolutionary Site of Yan'an, a major base of the party before it established the communist country in 1949, have also become a popular choice (link in Chinese) for local families during this Lunar New Year, according to Trip.com Group.
Meanwhile, zoos, museums, botanical gardens, and theme parks in cities have also seen an uptick in interest from local residents, according to the Trip.com Group. Venues such as the Shanghai Disney Park and the terra cotta warrior-filled mausoleum site of China's first emperor Qinshihuang in the city of Xi'an have attracted the most attention from local residents.
This year, Fu and her family plan to drive to a remote district in Chongqing to visit a safari park during the Lunar New Year holiday. She's looking forward to the spring, when a new airport will open in the nearby Xiannüshan mountain, a popular venue for local residents to escape from the heat during summer. The airport will cut the travel time for visitors from Chongqing from a two-and-half-hour drive to a 30-minute flight.
Fu says she does not expect to be able to travel outside China until 2024, despite itching to do so. "The number of coronavirus cases is still high in other countries, and the coverage of the vaccines also doesn't seem to be wide enough yet," she says. "But when the pandemic is over, my top destinations would be Florence and Sicily in Italy."