The pandemic means we have fewer places to go, but that's not stopping people from getting glammed up. Described as "surprisingly resilient" by global consulting firm McKinsey, the beauty industry is outpacing many of its retail-dependent peers. It's thriving because its brands are relevant (looking good never goes out of style), have mastered social media, and appeal to an eager Gen Z and millennial customer base that is willing to spend.
The pandemic may have accelerated those trends, but they were in place well before it. In our latest presentation, we explore the trends that are creating beauty's glow up.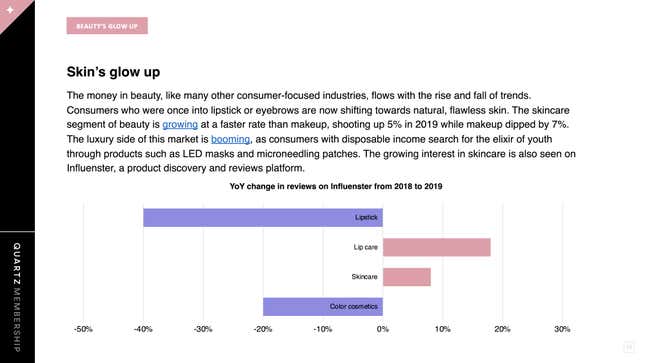 One big area of growth within the beauty industry is skincare. Products in this category are growing at a faster rate than color cosmetic products such as lipstick and foundation. Skincare grew by 5% in the US in 2019, according to market research firm NPD. Purchase patterns on Influenster, a product discovery and reviews platform, also reveal this shift. For example, in 2019, lipstick dipped by 40% but lip care grew by 18%.
Consumers are increasingly learning about new products on social media. To court the valuable millennial and Gen Z customer base, brands are shifting advertising to influencer marketing, which Business Insider estimates will grow to $15 billion by 2022. Numerous direct-to-consumer beauty brands are thriving in the social media environment. Kylie Jenner's millions of Instagram followers boosted the success of her beauty line, Kylie Cosmetics; during the brand's first 18 months, sales reached $420 million. Skincare-as-makeup company Glossier reached unicorn status in large part because of its relationship with its online community, which plays a significant role in product development.
Beauty's also crossing borders. Thanks to Korean pop culture, everyone wants the glass skin of a Korean celebrity. Korean skincare is known for its research-forward approach, informed customer base, and fast product adoption. Korean brands prize functional cosmetics, cosmetics focused on skincare, promising benefits such as anti-wrinkle, elasticity production, and sun protection. The Korean skincare industry is expected to generate nearly $12 billion in revenue in 2021 and grow annually by 4.6% through 2025. Beauty barons are paying attention. In 2019, Estée Lauder acquired Dr. Jart+ for $1.1 billion, marking the French beauty empire's first purchase of an Asian brand.
Looking forward, technology is becoming increasingly important in the beauty industry as physical product testing becomes limited or inconvenient. One leader is Modiface, an augmented reality app for trying on makeup. Acquired by L'Oréal in 2018, Modiface has clients that include 55 of the top beauty brands and, most recently, Google.
Keep scrolling to see all of the slides in our beauty presentation. Or, if you'd prefer, you can view the PDF version or download the PowerPoint file, which includes our sources and notes. This is one of an ongoing series of member-exclusive presentations, which you can read, reformat, and use as you wish.
Please share any feedback about what would make these presentations more useful—or topics you'd like to see us cover—by emailing us at members@qz.com. These presentations are an exclusive benefit for Quartz members. We'd love it if you'd encourage any friends or colleagues who express interest to become a member so they can access them too.