Lucknow is the capital of Uttar Pradesh (UP), the most populous state in India, which also holds the largest number of seats (80) in the lower house of parliament. UP is considered the most important battleground in the Indian elections by many, which is why billboards promoting the National Indian Congress Party and the Bharatiya Janata Party (BJP) pepper rooftops around town. No Aam Aadmi Party (AAP) billboards are up yet, and the BJP promotion is the most predominant.
The ads tell two different stories: a country moving toward progress—together—and the other is of a place in need of drastic change, delivered by one man.
Bharatiya Janata Party (PM candidate: Narendra Modi)
The core messaging of this campaign is centered on the notion that Modi's coming to power is an eventuality as evidenced by the use of the present tense and his largely solo appearance on the billboards.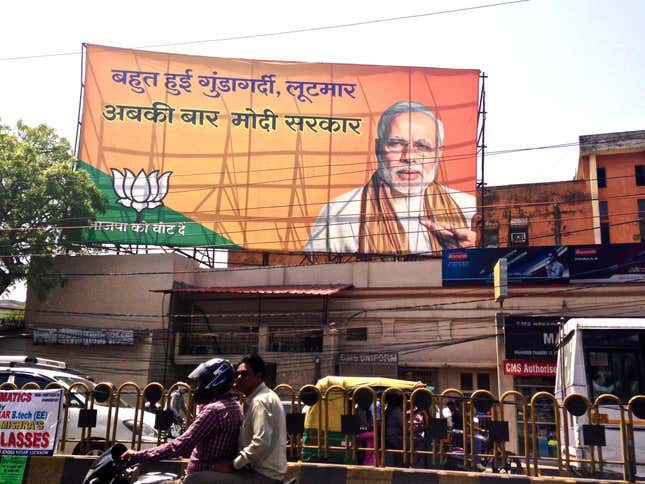 "Enough of lawlessness, this time Modi government."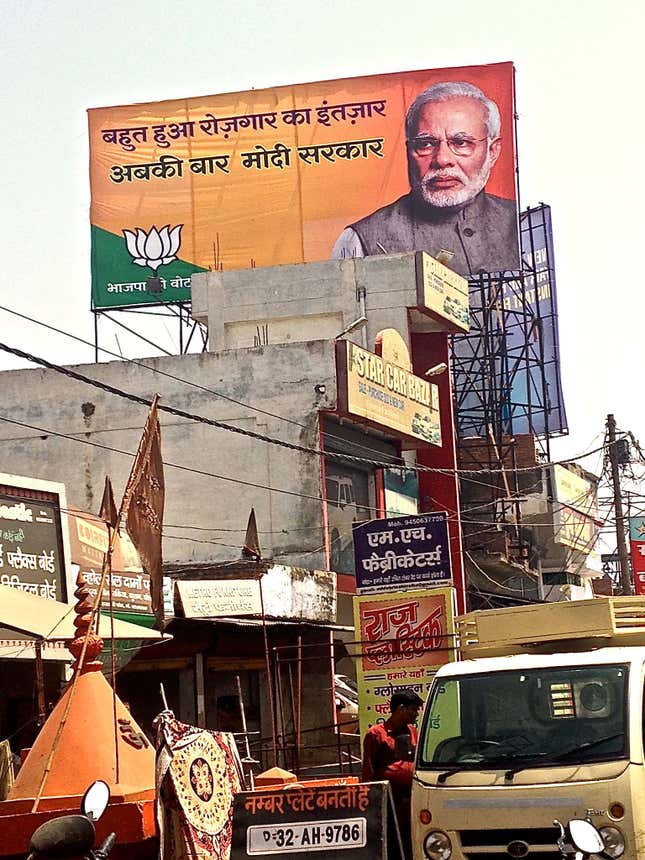 "The wait for employment has been enough, this time Modi government."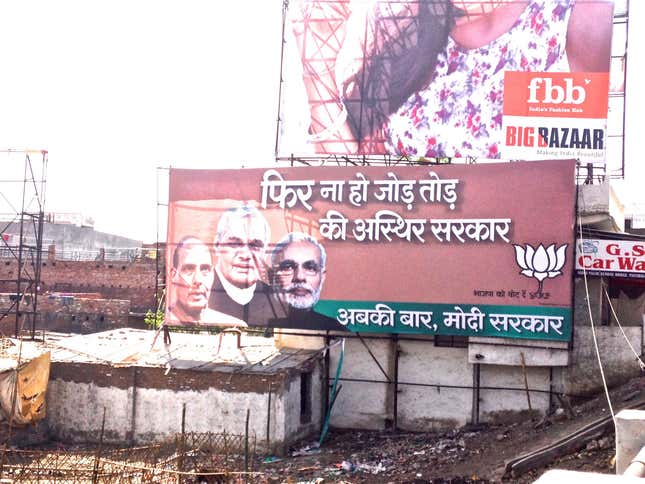 "Not again an unstable coalition government, this time Modi government."
All BJP billboards are in the colors of the Indian flag—saffron, white and green, and indicative of a nationalistic stance. In the top two where Modi is alone, looking away—it's classic iconography for a leader: he is portrayed as someone preoccupied with the future. Note: he is not engaging with the viewers (voters). Consistently, the headlines don't address the people directly, nor make actual promises: they simply build an opposition to the current state of affairs (lawlessness, unemployment, an unstable coalition) and Modi, whose government is implicit solution.
Indian National Congress Party (PM candidate: Rahul Gandhi)
Built on the values of collaboration, empathy and diversity, the core message of the Congress Party is to improve upon on what has already been achieved. The campaign is in the future tense (the tense of promises).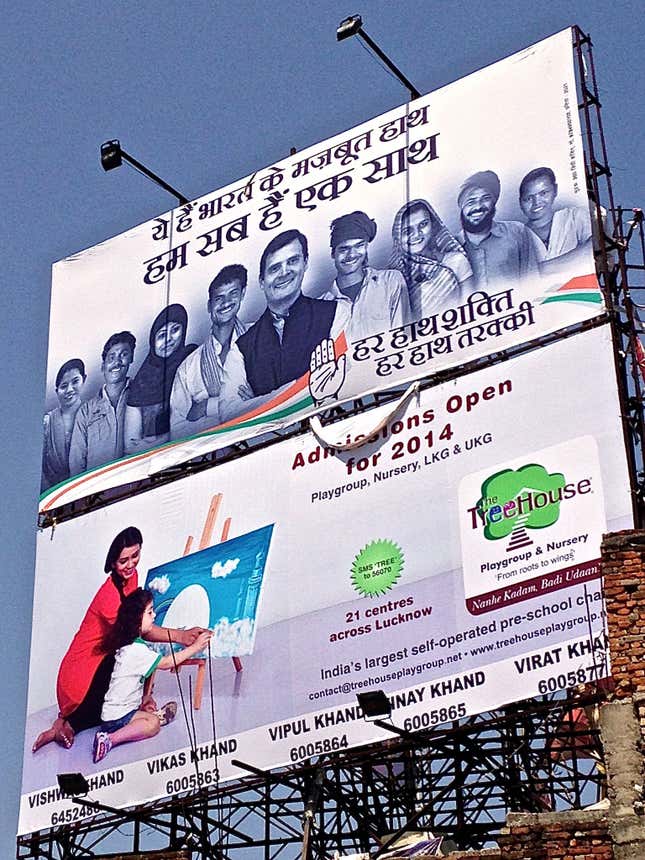 "These are the strong hands of India, we are all together."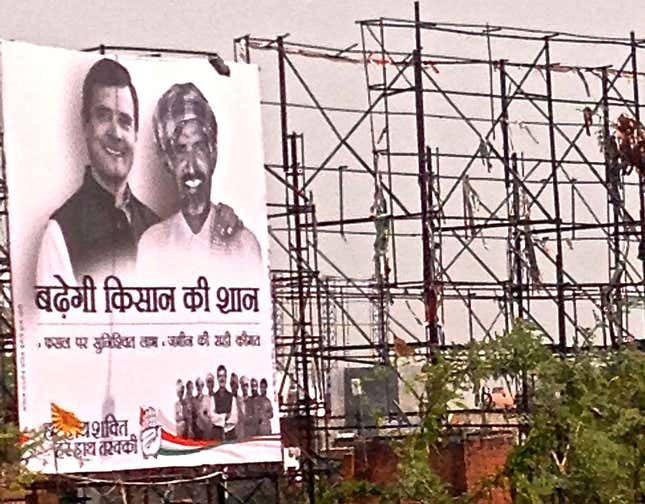 "The pride of farmers will increase."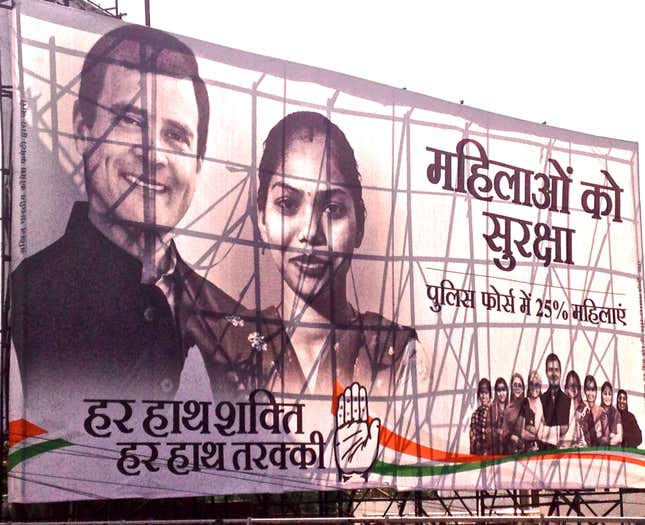 "Protection of women—25% women in the police force."
The Congress Party campaign mixes different values: tradition—evoked by black and white images, which already consigns Rahul Gandhi to history; on the other hand, the campaign is based on specific promises, and written in future tense. The combination of the two create a mythology different from the "now" that Modi claims. Rahul emerges as a leader of the crowd—he's directly addressing the citizen to ask for her participation and cooperation (people are addressed as a "we"). In front of and behind him, people represent the diversity of India: men and women (who are completely absent from Modi's campaign) of different ethnicity and religions. This is an effective way to evoke the intolerant past of the adversary without mentioning him.
While Modi proposes himself as the alternative to India's problems, Rahul Gandhi offers, with his empathetic smile, the dream of an India that achieves progress through cooperation.
Photos and translations by Betwa Sharma.