It's been a pretty crazy couple of decades in teen fashion, with any number of weird and wonderful clothing trends appearing and then vanishing.
But does one of the more recent fads— skinny jeans—have the air of the recession era about it?
Piper Jaffray has put together a (pretty great) index of underlying sales growth for America's teen retail sector* stretching back to 1997 and labeled with the key fashion trends. And as we can see, the glory days for purveyors of American teen fashion took place in the era of chinos, the cargo shorts craze, and twill pants, while the more recent skinny denim phenomenon has coincided with a deep downturn in sales.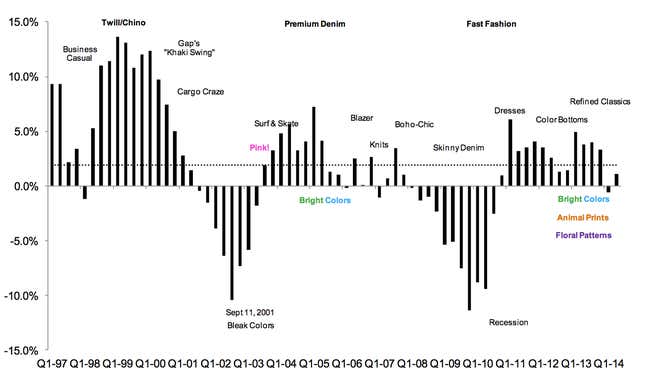 But don't go blaming tight-fitting denim for the teen retail sector's  woes. The economic cycle has a much bigger bearing on apparel retailers than fashion preferences do. And the most recent cyclical lull has been accompanied by some important structural shifts (record youth unemployment levels, increased share of youth spending on electronic devices, the rise of online retail) which have made matters even worse.
That being said, analysts are hopeful that another shift in fashion preferences could re-ignite growth for the struggling sector. Goldman Sachs earlier this year declared that high waisted ("mom") jeans could be the next "macro" shift in fashion, causing women to overhaul their wardrobes.
For its part, Piper Jaffray thinks the beginnings of a "replenishment cycle" led by colored denim pants could already be underway. However, it says, consumers are in "pause" mode as they focus on "editing" rather than "investment" in their wardrobes. For growth to really return, Piper Jaffray argues, something bigger would be needed, ideally suitable for both sexes, wearable by people of all ages and sizes, and novel enough to get them to buy.
* (Specifically same-store-sales growth for Gap, L Brands, Abercrombie and Fitch, American Eagle, Aeropostale, Pacific Sunwear, Zumiez, Urban Outfitters, Wet Seal, Body Central, Rue21, Express).