Samsung is going where few multinationals have gone before. In India, the South Korean giant will open between 3,000 and 4,000 shops in cities with fewer than 100,000 people, according to the Economic Times.
This may not sound like a big deal to readers from countries with populations measured in millions instead of a billion, but towns of that size in India are little more than overgrown villages. "Modern retailing is yet to make any entry in these small towns and villages, and at best, there will be one small street that is the retail hub," Vineet Taneja, Samsung's head for mobile in India, told the newspaper.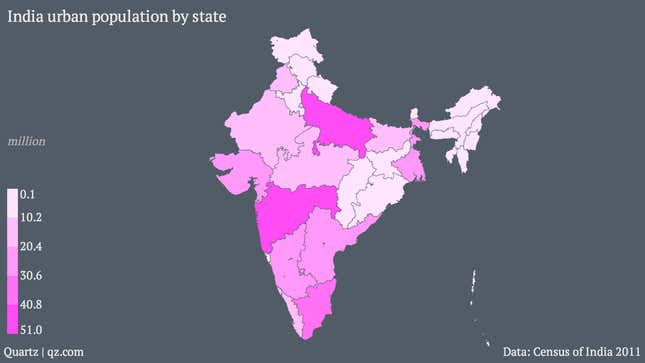 Consider the numbers. India's 2011 census counted 7,933 cities, with a total urban population of 377 million. Of that, 220 million live in 489 cities with a population of more than 100,000 people. That's 58% of the urban population—and 18% of the total population—crammed into just 6% of areas designated as towns. You can see why few companies venture beyond these cities.
Samsung's plan is to open stripped-down versions of the 2,000-odd stores it already runs across India, which have helped propel the company to the number-one spot in phone shipments. Samsung now sells one in five of mobile phones in India, and one in three smartphones. Along with televisions, this generated revenues of $6.3 billion for the firm in 2013. That's a tiny portion of its global revenues of about $220 billion, but its Indian business is growing fast—sales last year were up 40% over 2012. And as the market for top-end smartphones becomes increasingly saturated, moving into untapped markets gains greater urgency.
Samsung is ahead of the curve when it comes to setting out its stall in India's smaller towns. In these places, local and international retailers tend to flog basic consumer goods like Coke and two-rupee soap sachets, or service industrial needs with tractors and trucks. The options for middle-class consumers are much more limited.
Samsung's Taneja reckons that there is enough pent-up demand in these towns to offer the company's full range of products, not just the cheapest phones typically associated with markets away of the biggest cities. "[We] are confident that some consumers would even buy flagship models such as Galaxy S5," he said.