Demonstrations in Taiwan over a trade pact with mainland China are winding down, and just a few dozen student protesters remain inside the parliament building in Taipei, after reaching an agreement with officials that ended their three week occupation of the building. But what the occupied parliament looked like will be preserved for posterity on Google Maps, which now features a nifty 360 degree "photo sphere" from inside the legislative chamber that shows the occupied building, sleeping bags, clutter and all: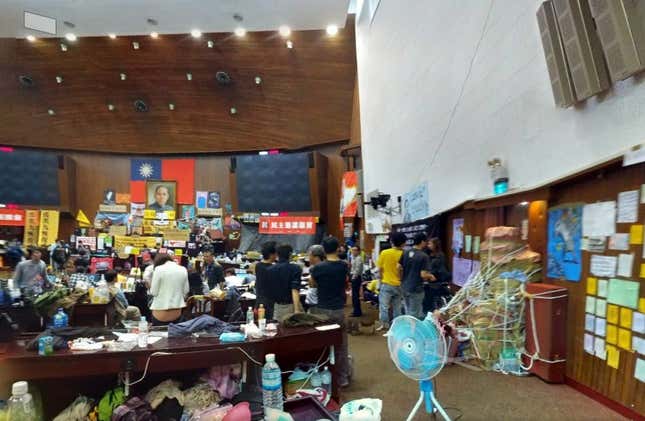 Last year, Google started an online community called "Views" which allows users to share their 360 degree photos and place them on Google Maps. So far, dozens have been uploaded, the vast majority of them breathtaking, mostly people-less scenery in exotic places, like this one from Mount Fitz Roy in Argentina or this from Tallisaari, Finland.
But the Taiwan legislature occupation seems to be the first political protest that have been frozen in time by Google. The "inside the bubble" nature of the photo sphere makes it feel a lot more immediate than regular images do, and its geographic attachment within Google Maps gives it a sense of permanence. You could see, looking at the Sunflower photo sphere, how it might shape the future for Google Maps, which could evolve into an online repository for hundreds or thousands of politically-charged, event driven, place-specific moments frozen in time, becoming a political tool of its own for activists and others.
Taiwan's recent anti-China protests at one point involved thousands of protestors marching on the streets of Taipei, many carrying sunflowers or wearing the color yellow. They weren't about a trade deal as much as the contentious relationship between China and Taiwan, participants said. "We're not against trading with China. We are afraid of China taking over our country," one banker who joined the march told The New York Times.
In mainland China, the Taiwan protests were seen as a chaotic, unappealing "democracy problem," as Quartz reported earlier. While Google's search results are heavily censored in China, Google Maps is not—and this 360 degree photo of the aftermath of weeks of occupation will probably do little to change the mainland China view that democracy is messy.