Buy something online during the pandemic? So has pretty much everyone: US e-commerce experienced 10 years of growth in the first three months of 2020. And chances are, you bought at least one of those things on Amazon.
Amazon's success is well earned—it played a significant role in shaping how we shop online. Obsession with customer satisfaction drove innovation such as fast shipping and streamlined ordering, which are now industry standards. However, Amazon's competitors (that is, just about everyone in retail) are not going to let that dominance go unchecked. A notable few, dubbed the "anti-Amazon alliance," are rising to the occasion, implementing strategies to take a slice of Amazon's e-commerce pie.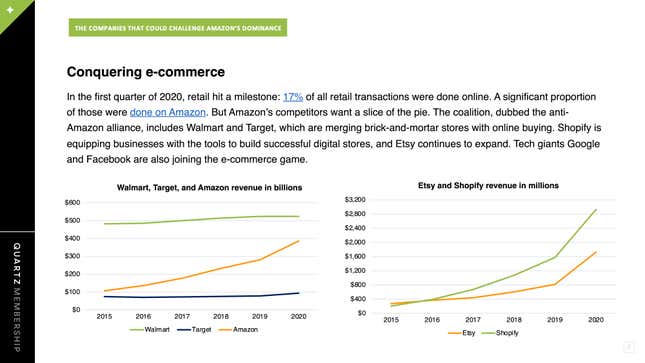 Brick-and-mortar retailers Walmart and Target are learning new tricks and using their physical presence to their advantage. E-commerce shop builder Shopify is "arming" 1 million businesses with the tools to compete online. Artisan-focused Etsy's millions of sellers offer a human connection that Amazon's machine cannot imitate. Meanwhile, tech giants Google and Facebook want to leverage their formidable searchability and existing communities into advertising revenue that has previously gone to Amazon.
Better understand the strategic positioning of these and other Amazon competitors in this presentation. If they have their way, you're going to be hearing about—and buying from—them a lot more in the future. Maybe they'll even succeed at chipping away at Amazon's lead.
Keep scrolling to see all of the slides in our e-commerce presentation. Or, if you'd prefer, you can view the PDF version or download the PowerPoint file, which includes our sources and notes. This is one of an ongoing series of member-exclusive presentations, which you can read, reformat, and use as you wish.
Please share any feedback about what would make these presentations more useful—or topics you'd like to see us cover—by emailing us at members@qz.com. These presentations are an exclusive benefit for Quartz members. We'd love it if you'd encourage any friends or colleagues who express interest to become a member so they can access them too.