Fast Retailing, the Japanese parent company of the clothing chain Uniqlo, dragged the entire Japanese stock market down today. The company's shares fell by 7.9% after the company warned that profits would be lower than expected this year. At issue is the retailer's expansion drive, which aims to add 30 stores a year in the US and 100 year a year in China. Analysts fear that this isn't enough to make up for anemic sales in Japan, where stores have already reached saturation levels.
The company's slide created headaches for a broad range of investors—Fast Retailing makes up almost 10% of the benchmark Nikkei 225 index, which fell 2.4% on the day to its lowest point since October last year.
Uniqlo, known for its sprawling stores where employees are drilled to stack items of clothing with military precision, is certainly making major strides abroad. International sales now make up one-third of total sales, rising 78% in the six months to February. On the same day its stock plunged, Uniqlo opened a new flagship store in Germany—its largest yet in Europe—and will open another in Paris later this month. But adding hundreds of new stores a year is no easy task, and Uniqlo will have to open one every few days to meet its growth targets. The company's operating profit margin fell to 10% in the second quarter, from 23% a year earlier, due in part to the costs of opening new stores.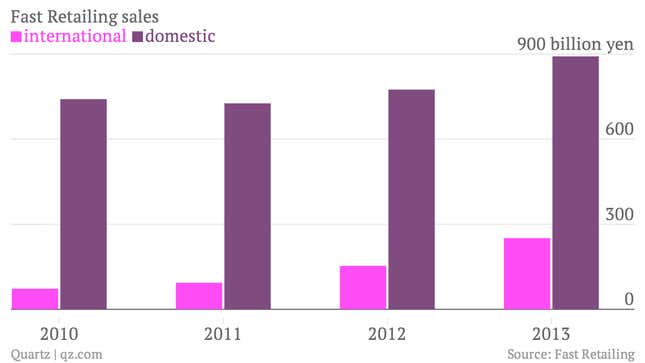 Sales growth in Japan seems unlikely to pick up anytime soon. Revenues in the retailer's home market didn't respond to this year's frigid winter, which should have led to increased sales of Uniqlo staples like thermal underwear and lightweight down jackets. "I don't have an optimistic view about consumption in Japan," company president Tadashi Yanai, Japan's richest man, told Bloomberg.
If opening stores abroad doesn't move the needle quickly enough, Uniqlo may have to step up its acquisition efforts. Although discussions with American clothing company J. Crew reportedly broke down last month, the Wall Street Journal reported that there is still a chance they could be revived. They could gain greater urgency if Fast Retailing's stock keeps falling—according to Bloomberg, it is still trading at the loftiest valuation of the 10 largest global apparel retailers.