This article has been corrected.
The final rounds of the US Masters golf tournament are played this weekend, but this year's edition of what is arguably the sport's most prestigious event is already different. For the first time in 20 years, Tiger Woods isn't participating, due to injury.
Even in 2009, when Woods began a self-imposed exile from the sport he had dominated so convincingly for years, he still managed to make it back to the circuit in time for the iconic golf tournament.
And this year, the absence of Woods—who has won the contest four times—is being acutely felt. One stark indicator is a sharp drop in the resale prices of tickets (known as badges) for this weekend's rounds.
Like so much to do with this iconic tournament (including the green jackets), the ticketing process for the Masters is unique. One way to get access is to be a member of the highly secretive Augusta National Golf Club (which, after years of pressure, only recently admitted its first female members). There's a waiting list for tickets available to the general public, but it has been closed since 2000 (before that, it last opened in 1978). Starting in 2012, a limited number of single-day tickets was also made available through a lottery, but they are also extremely hard to come by.
There is, however, a secondary market for Masters badges being sold by those who were lucky enough to get them. (Officially you aren't allowed to sell your badge —arrests were even made in 2012—but hundreds of tickets are exchanged on the secondary markets each year.) This year, prices are way down. The average price of a US Master's badge fell 10% in the two days following Woods's withdrawal on April 1, according to SeatGeek, which tracks prices on secondary markets for many sports. Since then it has trended steadily downward, in direct contrast to rising prices last year.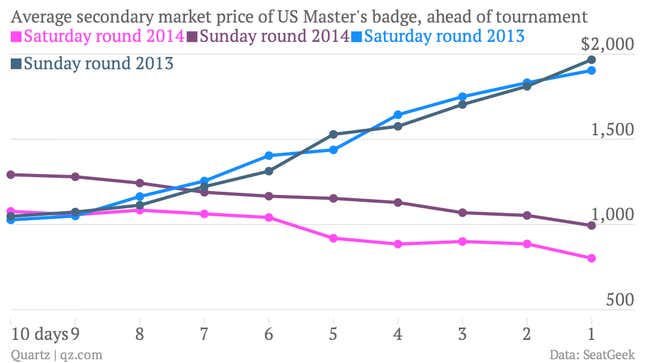 "Barring the development of a dramatic storyline over the weekend that drives badge prices back up, this could be the least-expensive Masters we see for quite some time, assuming Tiger is back and healthy for tournaments in the coming years," SeatGeek analyst Connor Gregoire tells Quartz.
Even the stock price of Nike, Woods' main sponsor, is down sharply since he dropped out, hitting a one-month low on April 11 (albeit in a falling market). It has been estimated that Woods's presence in last year's tournament generated $3.8 million in media value for Nike.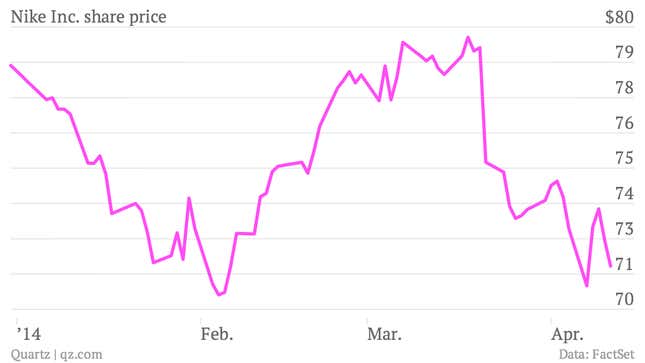 Call it the Tiger effect. We'll get a better sense for just how large Tiger looms over the sport of golf next week when TV ratings are out. But despite the emergence of some new stars (including defending Masters champ Adam Scott and 24-year-old Northern Irishman Rory McIllroy) golf could face a difficult period commercially when Woods, now 38, retires. Basketball, for example, underwent a period of soul searching when Michael Jordan quit the game.
Woods hasn't actually emerged victorious at Augusta since 2005, and only recently reclaimed his world number one ranking in March last year. But it seems that in the eyes of the American public at least, it's still his tournament, and his sport.
Correction: Due to an editing error, an earlier version of this piece identified Nike as the main sponsor of Quartz, rather than of Tiger Woods. Nike has no relationship with Quartz.