How is the landscape evolving? What opportunities are on the horizon? Which companies are changing the game? What are the challenges? What are the risks? And what transformative trends are emerging? At Goldman Sachs, these are the questions we ask ourselves and that are top of mind for our clients.
While our people apply their expertise across a range of disciplines, four themes in particular—Technology, Energy, Entrepreneurship, and Risk Management—stand out as among the most notable for our business in 2013. Within those themes, we highlight below 25 ways we saw the world change, in our newly published Annual Report.
Technology is touching every corner of our world: driving radical change across communications, encouraging strategic collaboration, and reinventing global commerce
1. E-commerce platforms continue to transform the way we shop and sell. According to Goldman Sachs research, digital commerce adoption and expansion is anticipated to further accelerate, with annual growth reaching nearly 17 percent within the next three years.
2. Advanced technology is enabling doctors to detect diseases earlier—which means helping save more lives. View video: Hologic's 3-D mammography and other technologies drive early detection of breast cancer.
3. Cloud computing has revolutionized data sharing and storage, setting a new standard for collaboration around the world. View video: Industry leaders discuss how this game-changing technology has enabled the storage and sharing of huge volumes of data, the birth of entirely new business models, and the ability to work collaboratively from any location around the globe.
4. Technology companies are setting an unprecedented pace for growth, facing strategic decision points quickly. Read about Twitter's $2.1 billion IPO, the biggest tech debut of 2013.
5. Monetization of mobile presents huge opportunities for those who can crack the code. View video: James Covello, head of Technology, Media and Telecommunications Equity Research at Goldman Sachs, discusses the most talked about theme at the 2013 Goldman Sachs Technology and Internet Conference—the monetization of mobile.
6. The pervasiveness of technology is creating extraordinary opportunities for business formation on a global scale.
Anthony Noto, global co-head of our Technology, Media and Telecommunications Group, and George Lee, chairman of our Global Technology, Media and Telecommunications Group, highlight rapid changes in the technology sector and what to expect next.
7. The next wave of disruptive technologies will bring forth even greater transformation. Read about some of the exciting technologies that are reinventing, once again, the notion of what's possible, in this report produced by Goldman Sachs Global Investment Research: The Search for Creative Destruction.
Energy: Advances in energy efficiency and resources create a unique opportunity for smart long-term investments that maximize the benefits of an integrated energy mix
8. The shale oil and gas revolution will contribute to North American energy independence—and offers new opportunities for coordination and growth. According to Goldman Sachs Research, the ability of shale to drive a resurgence of energy production in North America is creating powerful economic benefits.
9. Smart grid networks are driving efficiency along the electrical grid. Read about one company whose smart grid networking platforms connect millions of devices along the grid that generate, control, and monitor power.
10. Reliable, resilient, clean, and compact: on-site distributed power is gaining attention—and traction. View video: Bloom Energy's KR Sridhar on the path to universal energy access.
11. Clean energy and renewable companies are not only driving change in the production of energy but also in its consumption.
Stuart Bernstein, global head of the Clean Technology and Renewables Group at Goldman Sachs, describes the commercial opportunity of clean energy and renewables.
12. As the industry evolves, energy companies are positioning for success with support from innovative financing solutions. Read about how NRG Energy, Inc., America's largest competitive generation business, is meeting the growing need for environmentally responsible power.
13. In the spectrum of energy sources, wind is making an important contribution. As both developed and emerging market economies seek to create more diversified energy streams, wind power, both stand-alone and grid-connected, is becoming a more substantial energy source.
Entrepreneurship: The next generation of entrepreneurs is capitalizing on a faster innovation cycle, new technologies, and a more connected landscape
14. In a world of largely incremental innovation, radical thinkers can have the biggest impact. Elon Musk is someone who epitomizes transformation. From his trailblazing electric car company, Tesla Motors, to his proposed solar-powered Hyperloop intercity transporter, Musk's ideas are intended not merely to challenge convention—but to shatter it.
15. Strong networks among entrepreneurs are helping innovators grow their businesses and scale quickly. View video: some of today's most intriguing entrepreneurs and David Solomon, head of Investment Banking at Goldman Sachs, speak about entrepreneurship.
16. First-movers do not always rise to the top—creativity, a sound business model, and a keen understanding of consumer preferences set enduring market leaders apart. Read about how Spotify became a global leader in online music subscription because the founders identified the right mix of a successful freemium model, social networking features, and a service that gives users access to over 20 million tracks.
17. Entrepreneurs with the right answer, at the right moment, experience rapid growth impact. As data becomes a key strategic resource for businesses, powerful data storage solutions are becoming mission-critical. Read about how Nimble Storage CEO Suresh Vasudevan saw this opportunity and helped companies around the world rethink their traditional approaches to data storage.
18. U.S. entrepreneurs are continuing to create new jobs.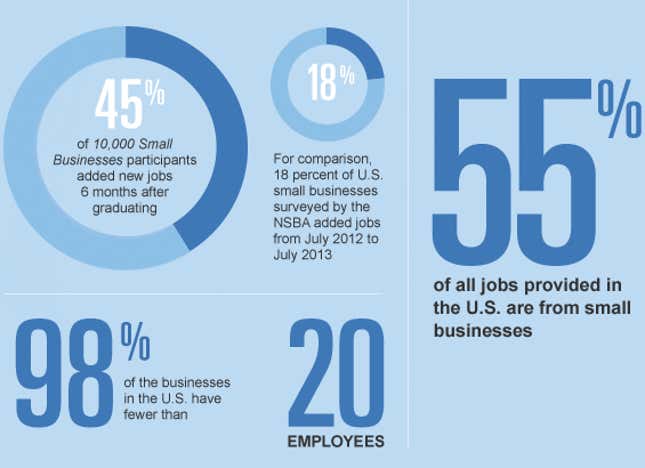 The Goldman Sachs 10,000 Small Businesses program in the U.S. helps entrepreneurs across the country create jobs and economic opportunity by providing greater access to education, capital, and business support services. Read the Impact Report developed by Babson College: Stimulating Small Business Growth.
19. In the U.K., local economies benefit meaningfully from communities of entrepreneurs. View video: Michelle Pinggera, international chief of staff at Goldman Sachs, comments on the importance of entrepreneurship in the United Kingdom.
20. Closing the credit gap: providing capital for women entrepreneurs grows businesses and helps local communities.
See how Goldman Sachs' 10,000 Women initiative is helping to create access to capital for women entrepreneurs, and learn about the recently announced partnership between 10,000 Women and the World Bank's International Finance Corporation (IFC) to create the first-ever global finance facility for women-owned small and medium sized enterprises (SMEs).
Risk Management: In today's complex environment, clients are focused not only on growth, but also on navigating a world of complicated and, often, interconnected risks
21. For company leaders, activist investors present new challenges—and opportunities. View video: Gene Sykes, Goldman Sachs' co-head of Global Mergers & Acquisitions, discusses this profound shift in corporate governance.
22. Risk management has become a C-suite issue, driving company leaders to seek more sophisticated analysis and advice. View video: Jim Esposito, head of the EMEA Financing Group at Goldman Sachs, comments on risk management in an interconnected world.
23. As challenges rise, the value of an integrated risk management infrastructure becomes clearer than ever. View video: Liz Robinson, Global Treasurer of Goldman Sachs, speaks about looking comprehensively and consistently across risks.
24. A wave of European companies is cutting costs, and credit risks, by turning to capital markets. See how one European firm ensured that financing would remain in place while selling a portfolio company to new owners.
25. As companies consider their risk profile, environmental risk management is increasingly important. From the pressures of rising population and consumption to urbanization and climate change, the need to pursue sustainability and manage environmental risks is a growing imperative both for our clients and for Goldman Sachs.
Learn more about these trends and how we are helping our clients navigate some of the most critical and dynamic sectors of today's global economy.
This article was written by Goldman Sachs and not by the Quartz editorial staff.