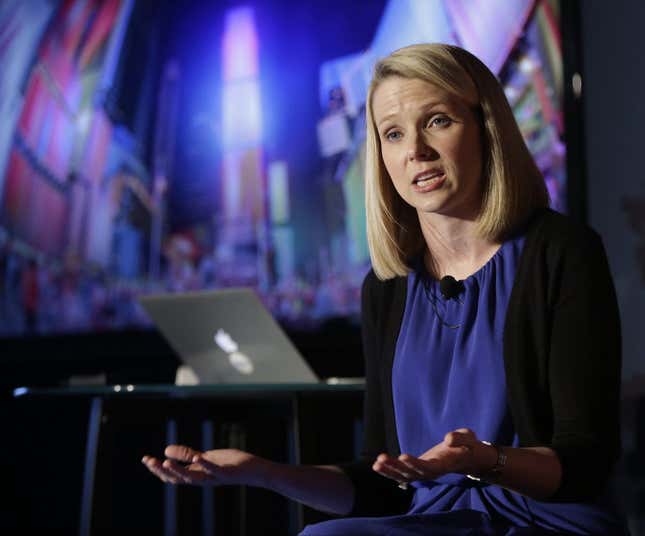 The numbers: Yahoo's first quarter 2014 results were a little stronger than expected. Revenue was down 1% from a year ago (or up 1%, excluding commissions paid for traffic.)  Net income was $0.38 per share, the same as last year. But the numbers investors care most about are those of Alibaba, the Chinese e-commerce giant preparing to go public in the US in coming months, of which Yahoo owns 24% (and thus discloses the private-company's results as part of its quarterly accounts.) Yahoo reported that Alibaba's December quarter revenue soared 66% to $3.06 billion and net income grew 110% to $1.35 billion.
The takeaway: The underlying performance of Yahoo's search and display advertising businesses showed signs of improvement. Alibaba's growth makes talk of a $100 billion-plus valuation for the company justifiable—which would put Yahoo in line for a huge IPO windfall. Yahoo shares rose more than 6% in after-hours trading following the earnings report because of the Alibaba strength.
What's interesting: Four mentions of Tumblr in Yahoo's official earnings press release compared to just one last quarter, though two were trademark disclosures and one was a link to the corporate blog. Yahoo purchased the blogging site for $1.1 billion last year, and investors have been looking for signs that the acquisition is boosting revenue.