At first glance, Google is an utterly fascinating company.
This week alone, it started selling its much-hyped face computer, Google Glass, to the general public (one model sold out), and bought a drone company, Titan Aerospace, as part of a push to take on Facebook and deliver wireless internet to unconnected people in emerging markets.
But Google is also a boring business – in the way it actually makes money. Today's its earnings report will be a timely reminder of the fact that Google's revenues and profits are derived almost entirely from search advertising, as they always have been.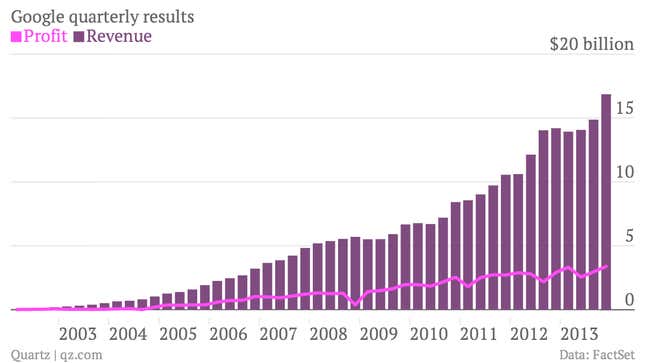 It's a very lucrative place to be. Analysts expect Google to have generated $4.3 billion in net income during the first quarter, on net revenues of $12.4 billion, according to FactSet
There are some questions about whether Google's search business will be as lucrative as it has been in the past, with internet users migrating away from PCs to mobile devices. So far it hasn't been a problem, but people will be paying close attention to the commissions Google pays to companies for traffic, which could eat into margins. (For example it's been estimated that Google pays large sums to Apple to ensure that Google is used as the default search engine in Safari on mobile devices.) Traffic acquisition costs are expected to be $3.29 billion in the quarter, according to FactSet.
One thing to note: Google got out of the handset business in January, so that  loss-making division is no longer part of the company. In the post-earnings conference call, we might hear about Google Glass, or the recent $3.2 billion acquisition of Nest, which closed in February. But we'll probably hear a lot more about the search advertising business  and things like click trends, as well as  the company's recent stock split. It was designed to maintain Sergey Brin and Larry Page's control over the company, and has myriad accounting implications.
Boring stuff, but it's hard to be exciting when you're as successful as Google has become.