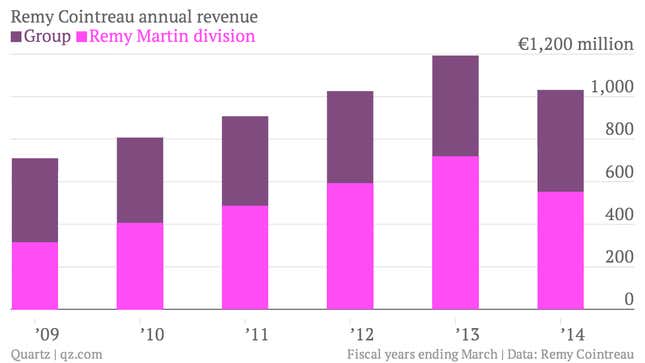 The numbers: Like a bad hangover. Sales in Rémy Cointreau's latest fiscal year, ending in March, fell by 13.5%, missing already-lowered analyst expectations. When the French drinks group publishes its full financial results in June, it expects operating profits to fall by 35-40% versus the previous year, the latest in a series of profit warnings.
The takeaway: Rémy Cointreau, which traces its history back to 1724, has grown incredibly reliant on China in recent years. The Rémy Martin cognac brand accounts for half of the group's sales, and more than half of Rémy Martin's sales come from Asia. Pricey bottles of premium cognac were, until recently, a popular gift for courting favor with Chinese officials. An anti-corruption crackdown is now beginning to bite—over the past six months, Rémy Martin's revenue has fallen by 35%, twice the rate of decline in the previous six months and a far cry from the double-digit growth regularly recorded by it and other cognac makers before the "anti-extravagance" crackdown by Beijing.
What's interesting: Rémy Cointreau isn't giving up on China yet. Although selling down excess stock will weigh on its results for some time, CFO Luca Marotta is confident that cognac's appeal in China is not just as a conspicuously expensive gift for bureaucrats. On average, the company currently sells one bottle for each dollar-millionaire household in mainland China, Marotta says. As the ranks of the rich rise rapidly—particularly in third- and fourth-tier cities (those smaller than metropolises like Beijing or provincial capitals like Chengdu)—huge scope for growth remains. He had better hope he's right; disagreements over the firm's faltering China strategy earlier this year reportedly cost the head of Rémy Martin and the group's CEO their jobs, the latter only three months into his tenure.